Hi Karyn! Thanks for inviting me to share my favourite recipe on your blog! I've chosen a dish that best represents the relationship between Sarah and Evan, the main characters in my book, Stealing Breath.
Sex in a pan.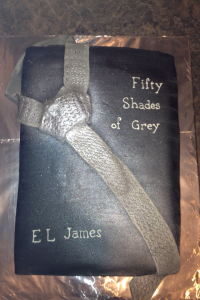 Joanne: I've chosen a photo that isn't actually the recipe, but a very interesting photo, nonetheless, because it is so damn hilarious to me. This is a cake baked by a local book club, celebrating their first meeting of the season. Gee, do you think they like the book, Fifty Shades of Grey? So funny.
Karyn: I"ll have to pass this photo on to my book club's September host because we just happen to be reading Fifty Shades. I think either cake would be the perfect dessert: the cover in cake form or Sex in a Pan. I wonder if Judy (our host) could make a table center piece of Christian Grey out of modeling chocolate?
So, without further ado, here's the recipe. Enjoy!
Sex In A Pan Ingredients
1/2 cup margarine, melted
1 cup chopped pecans
1 1/2 cups graham cracker crumbs
1 (8 ounce) package cream cheese
1 cup confectioners' sugar
4 cups frozen whipped topping, thawed
1 (3.9 ounce) package instant chocolate pudding mix
1 (3.4 ounce) package instant vanilla pudding mix
3 cups milk
1 (1 ounce) square unsweetened chocolate, melted
Directions
Preheat oven to 350 degrees F (175 degrees C).
To Make Crust: In a medium bowl, mix together margarine, pecans and graham cracker crumbs. Pat into a 9×13 inch baking pan. Bake in preheated oven for 20 minutes or until lightly browned; allow to cool completely.
In a medium bowl, beat together cream cheese and confectioners sugar until smooth. Fold in 1 cup of the whipped topping. Spoon mixture into graham cracker crust.
Prepare chocolate and vanilla puddings with milk as per package directions. Allow pudding to set before pouring on top of the cream cheese layer. Spread remaining 3 cups of whipped topping over pudding layer; swirl melted chocolate throughout whipped topping.
Cover and refrigerate for about an hour. For leftover pie, keep frozen in a tightly covered container. When ready to eat, just cut off a piece and allow to thaw; keep rest frozen.
Nutritional Information  (Even though it's sometimes best not to know)
Amount Per Serving  Calories: 463 | Total Fat: 30.6g | Cholesterol: 25mg
Recipe from All Recipes http://allrecipes.com/recipe/sex-in-a-pan-iii/
Karyn: Well, that's pretty self-explanatory! Thanks for stopping by, Joanne! What recipe or meal or drink best represents your favorite hero and heroine?
Twitter @JoanneBrothwell
An ancient evil has resurfaced, the soul of the Indigo Child is at stake. Beware those with the Stealing Breath…
Deep in the backwoods of North Dakota, twenty-one year old Sarah Ross is searching for a missing child when she is attacked by a glowing-eyed, transparent… creature. Sarah survives, destroying the monster by using mysterious abilities she didn't even know she had.
Bloody and bruised, Sarah flees the scene and runs directly into Evan Valente, a handsome, charismatic stranger who helps her back to safety. But what is Evan doing out in the forest at five in the morning?
Turning to a healer, Sarah is shocked to learn her eyes bear the mark of the Indigo Child—an evolved human with the ability to feel the emotions of others. But her indigo aura also makes her an easy target for those who wish to consume her powerful essence.
Soon, Sarah is falling deeply in love with Evan and wants nothing more than to follow her heart and trust that he is the man he says he is. But she can't ignore the lingering feeling that Evan is hiding a terrible secret. The deeper she digs, the more danger she faces, leading her on a course that will force her to face the darkest, innermost parts of her soul.