We're having a Haunted Garden Halloween Hop and you're invited! Join us for a chance to win prizes, meet the authors, and have a great time!
I'm so excited. The Haunted Garden Hop, which is hosted by my fabulous publisher, The Wild Rose Press, runs from October 26th until October 31st with winners being announced on November 1st. Every stop on the hop gives you the chance to win a prize. How's that for a Halloween treat?
Fall is a time for fabulous colors, using the oven again, and giving thanks. In my part of the world, the Canadian prairies, we've already celebrated Thanksgiving. Jack Frost has visited. The leaves have changed from green to glorious then been stripped from their branches by chill winds. Rakes came out and those leaves have disappeared altogether. We've had the first skiffs of snow fall and melt away. A brief but beautifully warm Indian Summer followed which saw temperatures climb back into t-shirt wearing weather. The last of the late field crops were harvested. Yesterday, more snow. Ah, the evolution of Autumn.
One of my favorite things about Autumn? Soup. I love soup. I love to make soup. Add a sandwich and I'm a happy camper. Making a proper sandwich takes skill, but that's another blog post. My second favorite thing about this very short season is sweaters. I adore knit wear. So warm and cozy. It almost makes up the for advent of chilly temperatures. My third favorite thing? TV premiers. I know, right? The Vampire Diaries, Arrow (new favorite), and Once Upon a Time. Those are my shows. As you can tell, I value my entertainment and escapism. Reality need not apply.
What are your three favorite things about Autumn?
One the best things about any time of year is all the great books out there! The Wild Rose Press has some of the best. Have a great time on the hop! Be sure to continue on with your trick or treating and visit the fabulous five listed below:
http://tarahscott.tarahscott.com/
http://christineelaineblack.blogspot.ca/
http://kyannwaters.blogspot.com/
http://decadentdecisions.wordpress.com/
http://thewildrosepress.blogspot.com/
My Giveaway: An ebook copy of my romantic suspense, Backlash as well as a $10 gift certificate to The Wild Rose Press. Don't worry, If you've already read Backlash I'm happy to gift it to a friend you think might enjoy it! Please leave your email address in the comment section to be entered. Good luck!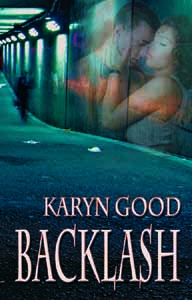 What he's sworn to protect, she's willing to sacrifice to save those she loves…
When dedicated teacher Lily Wheeler interrupts a vicious gang attack on one of her students, she vows it won't happen again. But her rash interference puts her in the path of a cold-blooded killer and the constable tracking him—a man she has little reason to trust, but can never forget.
Constable Chase Porter returned to Aspen Lake to see justice done, not renew old acquaintances. But when he rescues the woman he once loved from a volatile situation, he realizes his feelings for Lily haven't lessened over the years.
Now, the dangerous killer Chase has sworn to capture has Lily in his sights. Can Chase and Lilly learn to trust each other again before it's too late—or will old insecurities jeopardize their future?