Welcome Cara Marsi!
A great meal is the nectar of the gods. It's heavenly. Sometimes it's better than sex.
I'm of Italian heritage and grew up eating wonderful Italian food. All four of my grandparents were from the Abruzzo region of Italy. My grandmothers and my Italian mother-in-law were terrific cooks. However, of all the wonderful meals I've eaten through the years, one stands out above the rest.
In 2006, my husband and I traveled to Abruzzo, Italy, to join a tour run by my Australian cousin, Luciana, and her partner, Michael, an international tenor. A cousin from Arizona joined us. Luciana and Michael had just started their company, Absolutely Abruzzo, and this was their maiden tour.
As we traveled through mountainous, wildly beautiful Abruzzo, we ate the most scrumptious food every day. Luciana and Michael had arranged the meals and the elegant wines to complement them. We ate at several "agrituristicas," farms that grow and serve organic foods and are subsidized by the Italian government in an effort to bring more tourism into the lesser-known regions of Italy.
One such "agrituristica," Ill Nespolo, was run by a husband and wife, Maria Angela, from the province of Calabria, and Gabriele, from Abruzzo. Here's the menu for that meal:
Antipasto consisting of home-made sausage, cheeses with honey and saffron, marinated vegetables, bruschetta with olive paste.
Primo(First Course)-Gnocchi al pomodoro-gnocchi alle verdue (Gnocchi with tomato sauce and with green vegetable sauce)
Secondo(Second Course)-Petto di tacchino con arancia e rucola (turkey breast with orange and rocket. Rocket is similar to arugula)
Dolce(Dessert)-Home-made biscotti with honey
All served with local Abruzzese wines.
However, our hosts provided us with a surprise dish–saffron gnocchi with fresh-shaved truffle. Oh. My. God. That was the best food, hands down, I've ever eaten. Ever. In my life. All the food we ate on that trip was incredible, delicious, wonderful. And the wines were exquisite. But nothing compared to the heavenly delight of saffron gnocchi with fresh-shaved truffle. It was almost better than sex. During the meal, my husband whispered to me that he might have to divorce me and marry Maria Angela because she cooked like an angel. Couldn't blame him. I wanted to marry her myself. Our group went nuts over all the food at that meal, but especially the saffron gnocchi. There wasn't a scrap left of anything when we were done. To this day, I can't eat gnocchi because nothing will ever be as good as the gnocchi I ate at Ill Nespolo.
Food is more than eating. It's companionship and memories. I have the most marvelous memories of that trip and of the meals shared with family and new friends. I can't think of that saffron gnocchi without remembering Luciana and Michael and what great hosts and tour guides they were; getting to spend time with my cousin Kevin from Arizona, whom I'd bonded with on a trip to Australia a few years earlier; the friendship of the others in our group, all Australian. As a group, we grew close, sharing some rough times, like when our van got stuck in road ruts in the Abruzzo wilderness. Or when we hiked one of Italy's national parks on a scorching hot day. Or visited medieval monasteries carved into the sides of mountains. All the memories are bound together with the food we ate.
That trip, and the food, connected me to generations of my family who are as much a part of that region as the stark mountains and the hillside villages.
I've posted pictures of the gnocchi, the truffle being shaved, and our group. I'm second from left in the turquoise top, holding a glass, conversing with the man next to me. My husband took the picture.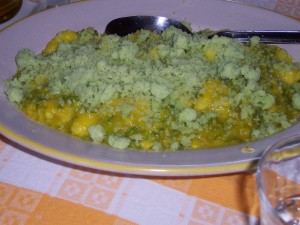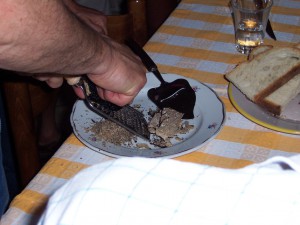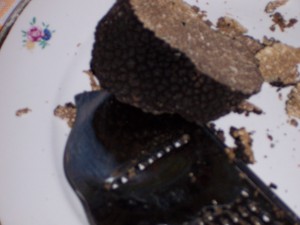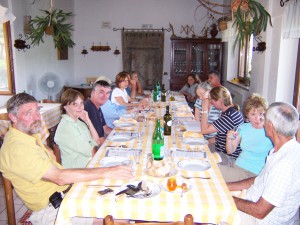 I love writing about food. My romantic suspense, "Murder, Mi Amore," from The Wild Rose Press, is set almost entirely in Italy. Every setting is authentic, based on places we visited and stayed during that 2006 trip. The meals I mention in that book are actual meals we ate. My very first published book, from Avalon Books, "A Catered Affair,"(reissued under the title "A Catered Romance") featured a caterer. Lots of food references in that book.
 If you're interested in learning more about the Abruzzo region of Italy or taking a trip there, check out Luciana and Michael's website:
http://www.absolutelyabruzzo.com
You can read about my books and short stories on my website: www.caramarsi.com
Karyn, thank you for having me today.