It's a tough job but someone's got to do it. After all, every protagonist needs backup, be they crazy neighbor, quirky best friend, or stranded alien. But it's a tough gig. Your character file is smaller. And frankly, your odds of surviving are greatly reduced depending on the type of story you turn up in. But while the job may come with less perks, if you do it right, you might just win recognition as Best Supporting Secondary Character.
So, in honor of secondary characters everywhere, let the Sensational Secondary Characters Blog Hop Begin.
Where would King Arthur have been without his Knights of the Round Table? Where would Calvin be without Hobbes? Can we even picture Robin Hood without his Merry Men?  I met one of my favorite secondary characters as a teen while reading Anne of Green Gables by Lucy Maud Montgomery. Diana Berry becomes Anne Shirley's bosom friend on first sight. She's privileged, pretty and amiable. The perfect kindred spirit for an orphaned girl with an overflowing imagination and talent for finding trouble. Adorable Diana is the perfect foil for Anne. But it is her immediate acceptance and steadfast loyalty to Anne that makes her special.
Minor characters can be playful, vengeful, fussy, or any number of others things as long as they remember their place. No novel can survive without them, but they're not allowed to steal the show. In my romantic suspense, Backlash, my heroine Lily Wheeler has her best friend Kate Logan. She's nothing if not loyal.
Here's a sample. Kate is grilling the hero, Chase Porter.
"Is this the part where you ask me what my intentions are?" (Chase) returned the once-over glance. Spectacular from head to toe and born for high heels.
(Kate) ignored him. "I'd rather know how much trouble Lily's landed in?"
"Nothing is going to happen to Lily."
"And you're basing that assumption on what?" She cocked a hip.
"On the fact that it will happen over my dead body."
Her eyes stayed cool. "As reassuring as that statement is, I'd feel better knowing you have an actual plan."
He ground his teeth together. "You're going to have to trust me."
Musical laughter filled the air. "Be thankful we have a history, and know if I didn't think I could trust you, believe me, we'd be having a very different conversation right now."
Because they did have a history, and because Kate loved Lily, he attempted an explanation. 
I'm giving away one ebook copy of Backlash to a commenter. All you have to do to enter is tell me your favorite quality in a secondary character, leave your email address, and be entered to win. Click here to continue on your way! Thanks to Libby Mercer for bringing us all together.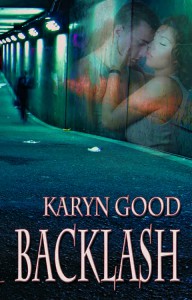 What he's sworn to protect, she's willing to sacrifice to save those she loves…
When dedicated teacher Lily Wheeler interrupts a vicious gang attack on one of her students, she vows it won't happen again. But her rash interference puts her in the path of a cold-blooded killer and the constable tracking him—a man she has little reason to trust, but can never forget.
Constable Chase Porter returned to Aspen Lake to see justice done, not renew old acquaintances. But when he rescues the woman he once loved from a volatile situation, he realizes his feelings for Lily haven't lessened over the years.
Now, the dangerous killer Chase has sworn to capture has Lily in his sights. Can Chase and Lilly learn to trust each other again before it's too late—or will old insecurities jeopardize their future?