If there is one quote that seems to be a favorite of many which I can't relate to, its: What doesn't kill you makes you stronger.
I don't know why this quote rubs me the wrong way because there's some truth to it. I think it's the fact that it's voiced by people who are searching to give comfort when there simply isn't any you can give. They fall back on the old tried and true. It's become trite and over used.
I prefer this instead.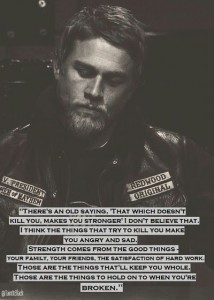 I saw this on Pinterest and thought I'd share. Have I mentioned I'm addicted to Pinterest. Today for instance, I spent many happy minutes (way to many) gazing at North West Coast Native Indian art in the name of research. Somehow that led to pinning ideas for great office spaces which lead to reading quotes.
So, yeah…that's how my Friday is going. How's your day going? What is your least favorite quote?