If you like giveaways this is for you! My publisher, The Wild Rose Press is giving away $10 gift certificates. We want you to read our books. For a chance to win all you have to do is enter the rafflecopter here:
Need a recommendation? How about Jana Richards' Burning Love.
A lovely novella found in The Wild Rose Press's Faery Rose line.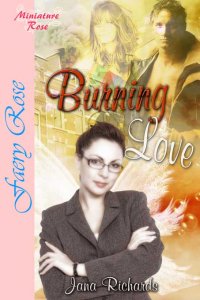 After causing three cooking fires in her apartment, Iris Jensen finds herself evicted. She lands on Riley Benson's doorstep, looking to rent a room in the beautiful old home he's restoring. It's only for six weeks until Iris leaves Portland, Oregon for her new job on a cruise ship. Firefighter Riley knows firsthand what a bad tenant she can be. But he needs money to finish the work on the house he loves. And something about Iris pulls at his heart…
Meanwhile, in Heaven, two angels watch over the young lovers. Angelica and Hildegard work in Heaven's Relationship Division, where angels match mortals with their soul mates. The angels believe so strongly in Iris and Riley's love that they break Heaven's rules to help them. Can the angels convince them they belong together forever before time runs out?
Buy Link: Burning Love by Jana Richards
The Wild Rose Press.
Good luck!