Besides the obvious, which is because we want to!
1. You can do it for free! And who doesn't love free! If funds are tight it's mandatory. Or you can save your money for mojitos and margaritas. Or the fabulous day trip you've been planning (don't forget to pack a book). Get a pedicure! You can pick up print books from the library shelves, or borrow ebooks. God bless libraries. I consider them an essential service! They give you the opportunity to try a book you might not chance buying. You might discover a new-to-you author. Their backlist. Then there's no stopping you.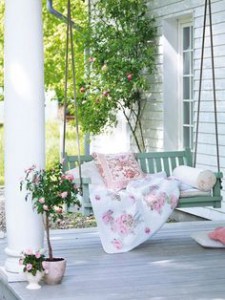 2. You can be an Extreme Reader and not risk your life! This one's pretty self-explanatory. Unless you need me to tell you not to walk and read. Or maybe that's only my clumsy self.
3. You can do it on the beach. In a hammock. In the park. In the shade. In a hotel room. In the airpost. Waiting for the ferry. On the bus. In your campsite. Any where. Any how. Any way. You might make a new friend over discussing the books you're each reading. Also, reading is sexy. So…you know, it might help you score. Do the kids still use that word?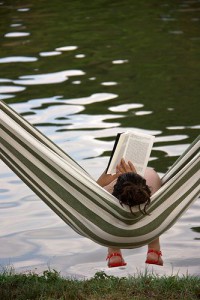 4. Reading has absolutely zero calories. If you're interested in that kind of thing. Or concerned about calories. But where's the fun in that. It also pairs well with wine. Popcorn. Veggies and dip. Fresh berries. Reading is very versitile in that regard and I'm sure Gordon Ramsey would concure. Do it while eating pizza, burgers, or Chinese food. I'm a firm believer that a book look tattered and torn when finished. Unless you get it from a library. Or a friend. Then you might want to keep the crumbs to yourself.
5. Reading helps you chill out. Have stress? And who of us doesn't? Books can take you away from your day-to-day troubles for a little while and help you relax. So go ahead, let a good book sweep you off your feet. Fall in love with a fictional character. Live in a fantasy world for a few minutes. Go back in time. Help solve a mystery. Play detective. Blush over the sexy bits. Get chills and thrills and crime.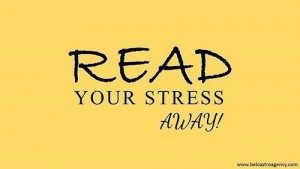 You can set yourself a summer reading challenge. Do a group read with friends. Or family. Like my sister, mom, and I are reading The Storied Life of A.J. Fikry by Gabrielle Zevin. I've pre-ordered Kristen Ashley's Ride Steady (Chaos #3). I want to read Searching for Sunday: Loving, Learning, and Finding the Church by Rachel Evans Held. Maybe J.R. Ward's The Bourbon Kings. HelenKay Dimon's Playing Dirty. Oh, who am I kidding, there are too many to mention.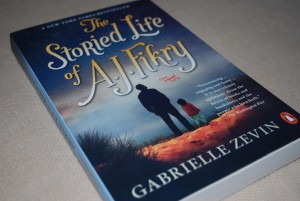 Read! Nothing goes with summer like a good book! What books are you looking forward to reading this summer? Also, share your recommendations!