I'm not the most coordinated person on the planet. I'm also not the strongest or the fleetest of foot. But I'm learning that doesn't matter much in the grand scheme of getting healthy. I'm also realizing that my exercise self can learn a little something from my writing self. Determination and the desire to improve are everything.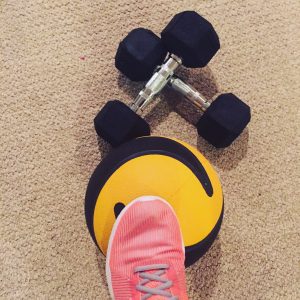 I'm a grinder.
Merriam Webster's definition of a grinder: athlete who succeeds through hard work and determination rather than exceptional skill.
I'm not sure about the athlete part, but as someone who started at the bottom of the fitness rung, I've definitely made progress during my five month strength and fitness training journey. Heck, as a person who hadn't done a squat or a lunge (never mind a plank, because WHAT!) in literally decades, I've come a LONG way. I've learned being slow, methodical and clumsy doesn't matter. By showing up and doing the work, even when I'd REALLY rather not, my physical strength is returning and my mental health is improving. I'm increasing my flexibility, balance, endurance, and coordination. So, win!
My writing is following the same path at the moment. The words aren't flowing and the path forward is often foggy. But I'm determined to get this project done so I will sit my butt in my chair and I will work through my roadblocks. I will grind away until I get where I want to go.
But back to exercising! Here are a couple of things I use for inspiration and motivation.
Harder To Kill Podcast by Steph Gaudreau. Steph is also the force behind Stupid Easy Paleo which focusses on nutrition, fitness, and mindset. Steph's philosophies also jive with the things I'm learning from my personal trainer (Yes! I have one of the those and more on that in another post).
Nerd Fitness Blog. An excellent resource.
Run, Selfie, Repeat – Kelly Roberts. Kelly is on a mission to help others become the strongest version of themselves. She's honest and open and lots of fun. She also just ran the London Marathon (it didn't go well) and got a selfie with Prince Harry.
You gotta be who you are. Own your starting point. Set a goal. And grind away at it until it's met.
Are you, like me, a grinder?