When I put together my reading plans for 2020, I had no idea that the world was going to implode because of a virus. You would have thought that would have made reading lots of books easier. Nowhere to go, no place to be. But, as many of us have experienced, maintaining focus long enough to finish a book has sometimes proven a struggle.
2020 and COVID 19 has also changed my reading habits. My book club, which had run for almost 20 years (there's always a debate over our start date), decided not to meet until things settled down. Of course, that hasn't happened. No one suggested we meet online. I don't think any of us had the energy, or the desire, to figure out how to make it happen.
I'm finding that's okay with me. I'm enjoying reading what I want at my own pace without stressing over having to read a book I don't want to read or choosing one that no one else would find interesting. A break from reading a book club pick each month has allowed me to focus on reading more Canadian fiction with a focus on Indigenous, Black and writers of colour as a way to diversify my reading.
You can read the results of my 2019 Reading Challenge here.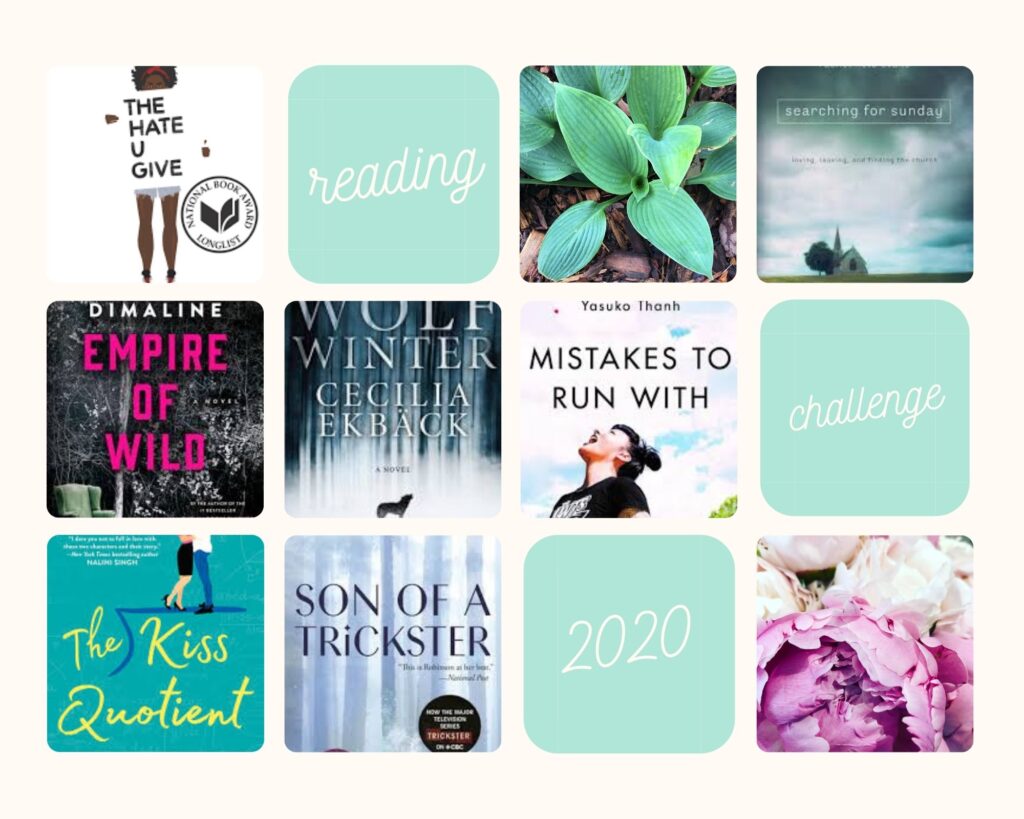 A Classic: My thought was to listen to Rebecca by Daphne du Maurier on audiobook. Then the Netflix adaptation came out and, well…I watched it instead.
A Historical: Wolf Winter by Cecilia Ekback. You can read my review here.
A Cookbook: Didn't happen. But I have one in mind for 2021.
An Indigenous Author: I read several great books. My favourite was Empire of Wild by Cherie Dimaline. You can read my review here. Followed closely by Moon Of The Crusted Snow by Waubgeshig Rice (Dystopian/Horror) which I really liked but which freaked me out. Followed closely by Maggie Blackbird, Indigenous Canadian romance writer.
A Romance: I read several, because…pandemic. A lot of old school Sandra Brown and Nora Roberts because those books are my jam. But I also read The Kiss Quotient by Helen Hoang and loved it.
A Graphic Novel: I bought one, but I haven't read it. Yet!
A Science Fiction Novel: Also, didn't happen. Don't even have one in mind. Definitely could use some recommendations as I don't even know where to really start.
A Book of Poetry: I have one…will read it in 2021.
A Non-Fiction Book: Searching for Sunday by Rachel Held Evans. I can't say enough good things about her writing and how it speaks to me. I'm still crushed by her sudden passing in 2019.
A Canada Reads Book: So…I picked Small Game Hunting at the Local Coward's Gun Club by Megan Gail Coles. Then the pandemic hit and I could tell by page ten it wasn't going to happen. Not that it wasn't a fabulously written book but I knew it was going to be intense and I just didn't have it in me. Luckily, I'd already read Son of a Trickster by Eden Robinson, which I loved.
A Memoir: Mistakes to Run With by Yasuko Thanh. It was raw, honest and articulate. Highly recommend.
A Young Adult: I know I'm late to the party, but I finally read The Hate U Give by Angie Thomas and wished I'd read it sooner because it's such a great book.
There you have it. I think I had a pretty successful reading year, despite finding it difficult to focus at times.
I'd love to hear about other reading challenges you did this year. Or if you have any reading recommendations, I'd love to hear those too.
Until next time…