At the beginning of July we decided to take a mini vacay and spend three nights in a geodesic dome overlooking the north shore of Buffalo Pound Lake in southern Saskatchewan. It's easy to sense of history that echoes along the shores of the lake, across the water, and into the valley where First Nation peoples have resided for millennia. Today the valley is home to First Nations, small towns, farmers and ranchers, and cottagers.
It's so peaceful and relaxing here. The sunsets are amazing. We call Saskatchewan the Land of Living Skies for a reason. They are spectacular.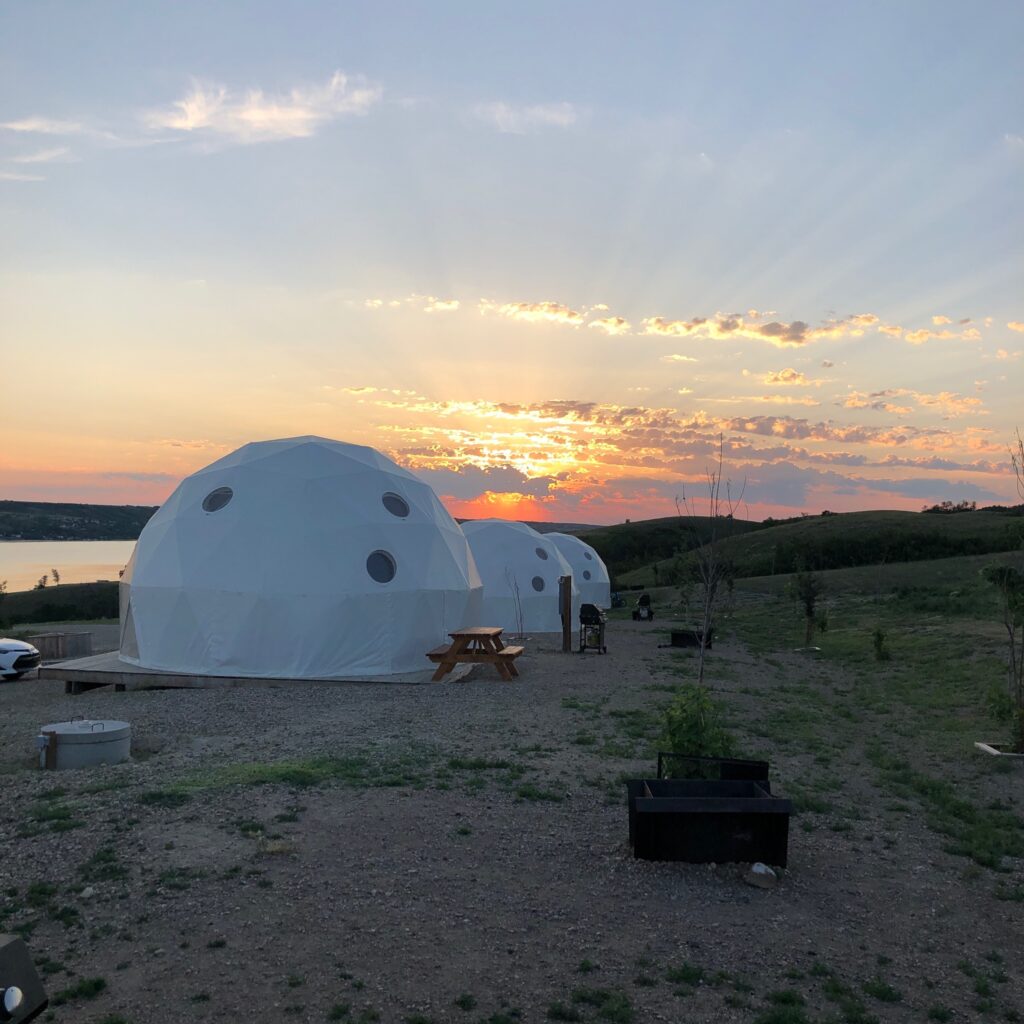 The domes have a lovely rustic feel. There is a small kitchenette, minus a stove as cooking isn't allowed inside the dome, but there is a fridge, sink, and countertop area. It comes with dishes and cutlery, other cooking necessities, as well as a gas barbecue. There is a bistro table and chair set and, most importantly, a bathroom with a shower. We stayed in one of the family domes which include a king bed and two double mattress in the loft area. The bed, with its Endy mattress and luxury linens, was SOOOOO comfy! And the view from it is amazing.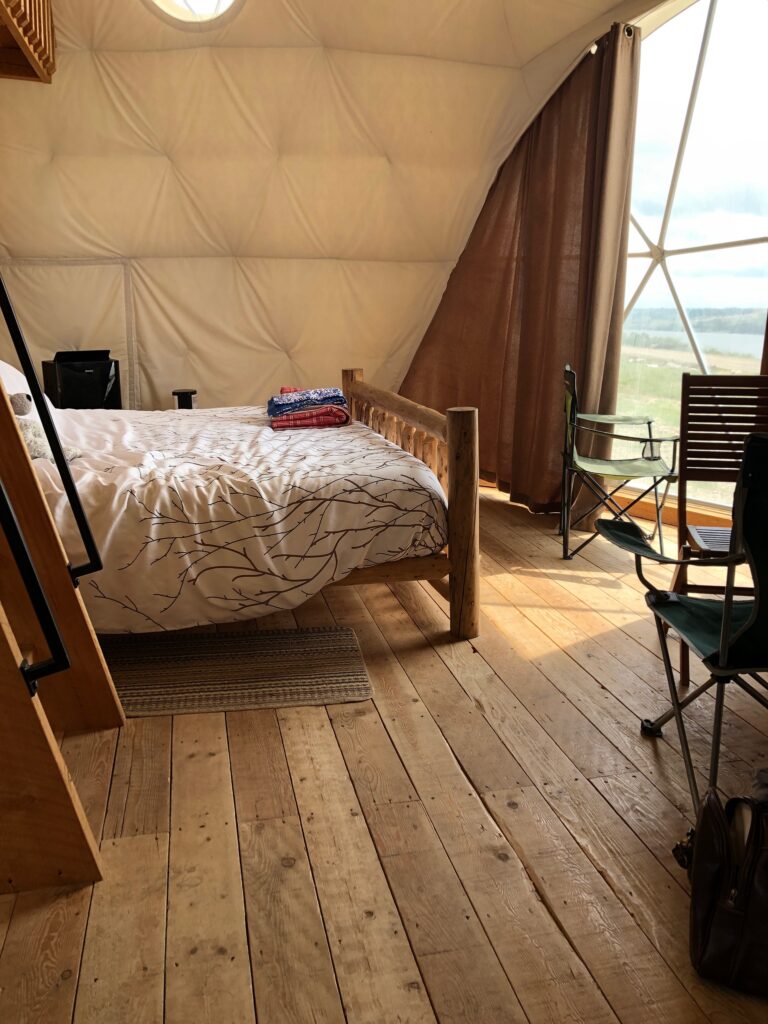 As comfortable and cozy as the domes are on the inside, the outside area is still in need of some landscaping. Aside from the view, which was wonderful, the ground was rocky and uneven and there is no shade and little privacy. But the area is under development and I hope some of these issues will be addressed in the coming seasons. In fact, a couple of very comfy Adirondack chairs where delivered to each of the family domes while we were there.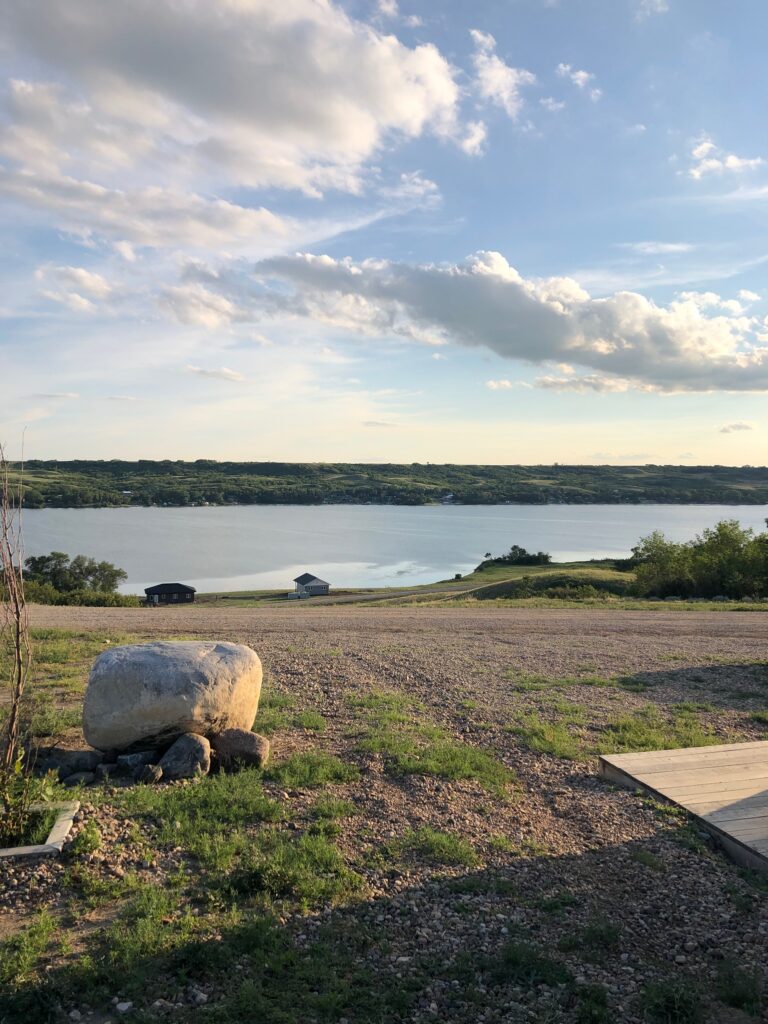 Of course, I read a great book! Ayesha At Last by Uzma Jalaluddin. I loved this book and a Sunday Book Talk review will show up some up in the next while!
**Buffalo Pound Lake is found on Treaty Four land, the traditional territories of the  nêhiyawak (nay-hi-yuh-wuk, Cree), Anihšināpēk (uh-nish-i-naa-payk, Saulteaux), Dakota, Lakota, Nakoda, and the homeland of the Métis/Michif Nation. **
Until next time…
Do you have any vacation plans for the summer? Staycation plans?