Is there a bigger transition than August to September? It seems like one day it's summer and the next day someone waves the checkered flag and, that's it, summer's in the rearview mirror. The race to claim as much sun and leisure time as possible is over. As much as I love September and settling back into a routine, I'm not ready to exchange the heat and blooms of summer for pumpkin spice everything.
But Fall, like taxes, is inevitable, but far more enjoyable when you wrap your head around the idea.
Here are three things I will be embracing this fall. Okay, there's four things in this photo, but books are a given.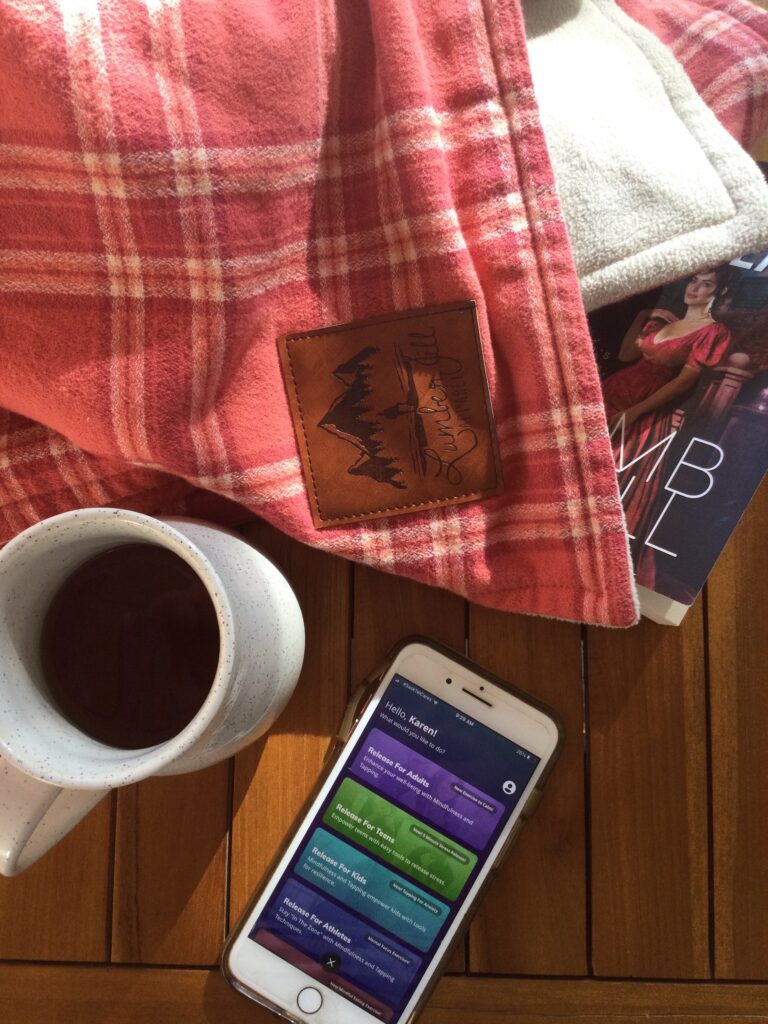 The Release App: In the midst of the 4th wave of this pandemic and it's more important than ever for me to take care of my mental health. The stress is real. Tempers are high and patience is waning. The Release App is part of my daily routine. I discovered the Release App when attending an art and mindfulness class. Trina Markusson provided tips on mindfulness and how to stay in the present moment. Meditation takes practice but it's benefits are far reaching.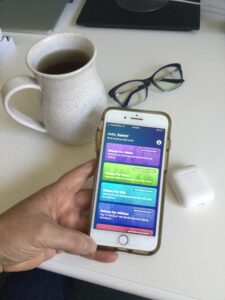 My LumberJill Apparel Rundle Wrap: This is the best cozy outdoor/indoor blanket/wrap ever. Great for all seasons. This Made in Canada brand is based in Alberta and all their products are produced in a factory in Edmonton as well as by local home-based seamstresses. This blanket is the best! I love the colour, but they have others. I love the simple mechanics of the design and how much coverage I get without tripping over the length.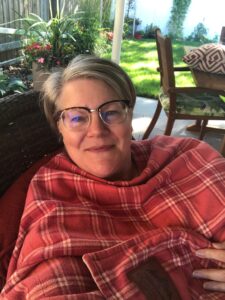 Lemon Love Tea from Cuppa T': Because every season should involve tea. And this particular tea smells like lemon meringue pie. It's like holding onto a bit of summer.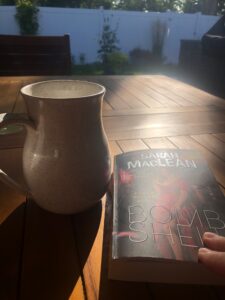 What I'm reading:
Print: Bombshell (Hell's Belle, Book 1) by Sarah MacLean. She's one of my favourite authors and this book is exactly what I need right now.
eBook: I have two ARCs (Advance Readers Copies) ready to go but haven't decided which to read first yet. But excited about both of them!
Audio: A Curious Beginning, A Veronica Speedwell Mystery, written by Deanna Raybourn and narrated by Angele Masters. Oh my gosh, SO GOOD!
Until next time…
What are your Fall necessities? Or drop a comment telling me what you're reading!