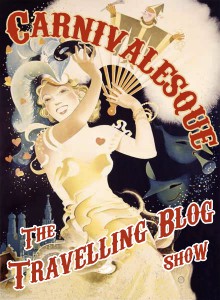 It's Thursday and we're officially back! It's Carnivalesque, the Travelling Blog Show time once again. Join Jana Richards, Hayley Lavik, Janet Corcoran, Joanne Brothwell and myself. Every week, we discuss various hot topics and share our unique opinions.
Today it's Joanne's turn to ask the question:
With Word On The Street (a Canadian book and magazine festival happening in several cities on Sunday) happening this weekend, I've been thinking (more like obsessing!) about what to wear. Do you think it's important as an author attending public events to dress in a way that reflects their platform? If yes, what does that mean for you? Drop by here and join the conversation!