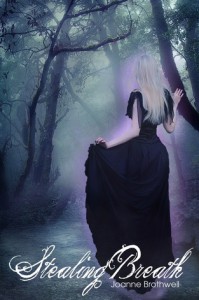 First is a book I've just finished reading and it's my critique partner's debut New Adult paranormal, Stealing Breath by Joanne Brothwell! It's a wonderful story and I hope you check it out.
Deep in the backwoods of North Dakota, twenty-one year old Sarah Ross is searching for a missing child when she is attacked by a glowing-eyed, transparent… creature. Sarah survives, destroying the monster by using mysterious abilities she didn't even know she had.
Bloody and bruised, Sarah flees the scene and runs directly into Evan Valente, a handsome, charismatic stranger who helps her back to safety. But what is Evan doing out in the forest at five in the morning? Read more here!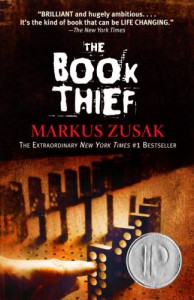 The second book is the one I'm currently reading and it's our May reading selection for my book club, The Book Thief by Markus Zusak. Excellent so far!
It's just a small story really, about among other things: a girl, some words, an accordionist, some fanatical Germans, a Jewish fist-fighter, and quite a lot of thievery. . . .
Set during World War II in Germany, Markus Zusak's groundbreaking new novel is the story of Liesel Meminger, a foster girl living outside of Munich. Liesel scratches out a meager existence for herself by stealing when she encounters something she can't resist–books. With the help of her accordion-playing foster father, she learns to read and shares her stolen books with her neighbors during bombing raids as well as with the Jewish man hidden in her basement before he is marched to Dachau.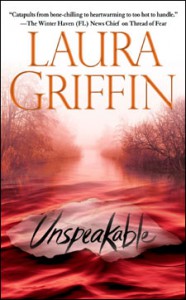 Laura Griffin's Unspeakable, the 2nd in her Tracer series, is next in cue on my TBR pile!
Elaina McCord's dream of being an FBI profiler is in danger with her first case—investigating a string of murders near a Texas beach resort. The victims, all young women, were drugged and brutally murdered, their bodies abandoned in desolate marshland. Elaina's hunch—met with disbelief by local police—is that these are only the latest offerings from a serial killer who has been perfecting his art for years, growing bolder and more cunning with each strike.
True-crime writer Troy Stockton has a reputation as an irresistible playboy who gets his story at any cost. He's the last person Elaina should trust, let alone be attracted to. But right now Troy, along with the elite team of forensics experts known as the Tracers, are her only allies in a case that's turning dangerously personal. A killer is reaching out to Elaina, taunting her, letting her know how ruthless he is and how close he's getting. Now it's not just her career that's in danger—it's her life. . . .
There you have it. That's my adventures in reading for the last couple of weeks.What great books have you read, are reading, or have stacked in your TBR pile?