I love talking about books and I love sharing books with you that I've loved reading. Genevieve Graham is a favourite author of mine and I would be delighted to recommend Letters Across the Sea to anyone who is looking for a read this cloudy Friday.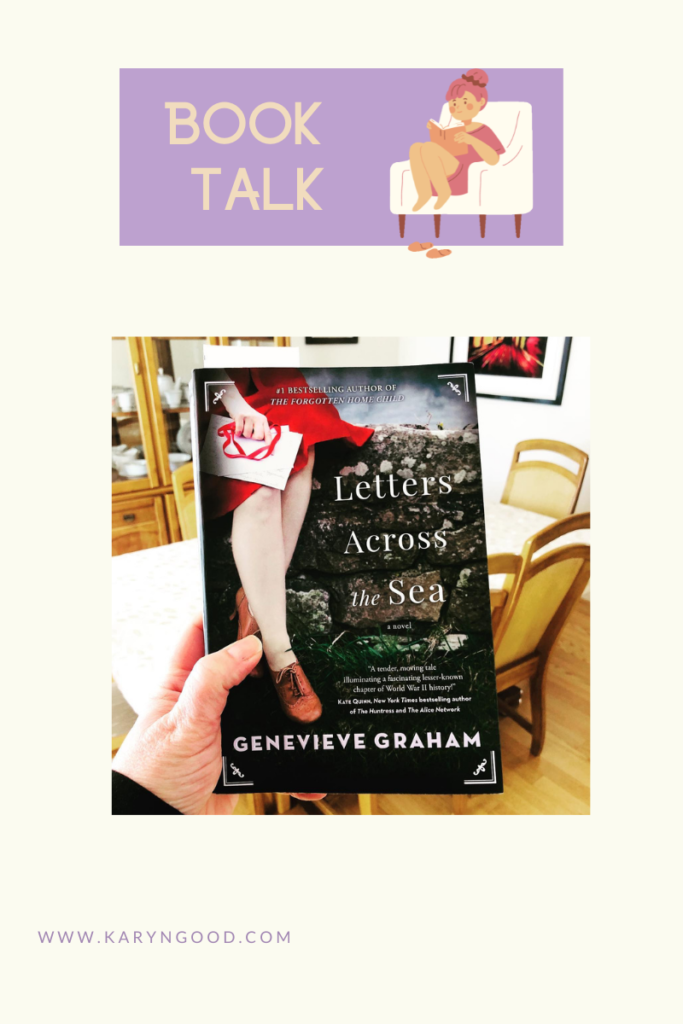 Letters Across the Sea by Genevieve Graham
Published: Simon & Schuster (April 27, 2021)
Length: 384 pages
Categories: Fiction / Romance / Historical / Strong Romantic Elements / Canadian History / 20th Century / Canadian Author
The Blurb:
If you're reading this letter, that means I'm dead. I had obviously hoped to see you again, to explain in person, but fate had other plans.
1933
At eighteen years old, Molly Ryan dreams of becoming a journalist, but instead she spends her days working any job she can to help her family through the Depression crippling her city. The one bright spot in her life is watching baseball with her best friend, Hannah Dreyfus, and sneaking glances at Hannah's handsome older brother, Max.
But as the summer unfolds, more and more of Hitler's hateful ideas cross the sea and "Swastika Clubs" and "No Jews Allowed" signs spring up around Toronto, a city already simmering with mass unemployment, protests, and unrest. When tensions between the Irish and Jewish communities erupt in a riot one smouldering day in August, Molly and Max are caught in the middle, with devastating consequences for both their families.
1939
Six years later, the Depression has eased and Molly is a reporter at her local paper. But a new war is on the horizon, putting everyone she cares about most in peril. As letters trickle in from overseas, Molly is forced to confront what happened all those years ago, but is it too late to make things right?
From the desperate streets of Toronto to the embattled shores of Hong Kong, Letters Across the Sea is a poignant novel about the enduring power of love to cross dangerous divides even in the darkest of times—from the #1 bestselling author of The Forgotten Home Child.
My Thoughts:
Genevieve Graham's books are always the perfect combination of character and plot tied to true historical events. Letters Across the Sea gives us a glimpse of life in Toronto in 1933. The Depression has devastated the economy. In the years leading up to World War II poverty, discontent and racism are rampant. Molly Ryan's life is forever changed on the night of the Christie Pits Riot in August of 1933.
Molly Ryan possesses some the qualities I admire most. She is steadfast, resilient and loyal. She survives with her ideals intact while doing what she needs to do to feed her family and help her community. As Depression begins to ease, Molly leaves behind what might have been and lands her dream job as a reporter. Then war breaks out and Molly is once again on the brink of loosing those closest to her.
As a Jewish man, Max Dreyfus is well acquainted with racism. As Hitler's hateful fanaticism reaches Canadian shores, he can't stay silent, he must step up and do something. After the Christie Pits Riot, Max leaves Toronto and Molly behind to become a doctor. Max is as steadfast and loyal as Molly. He's also a kind, compassionate, and strives to do the right thing. Which I think are admirable qualities in a hero.
When Max returns home, his experience in the horrific Battle of Hong Kong and as a returning prisoner of war brings him into contact with Molly, who is determined to tell the stories of returning prisoners of war from Hong Kong. The past catches up with both of them and they are forced to confront it.
Letters Across the Sea is emotional and compelling. The characters are strong and well-developed. The plot grabs your attention and keeps it. The pacing is perfect. The romance sweet. Highly recommend.
Genevieve Graham has a new book out this April.
Until next time…
Who else enjoys Genevieve Graham's books? Or drop a note in the comments and tell me what you're reading?