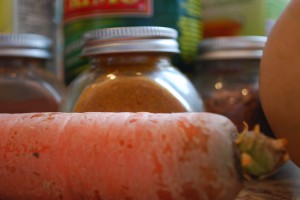 It's winter out there and nothing goes better with winter than soup. Good thing I LOVE soup. Soup has been around, well…forever. Or at least since the invention of ceramic pots, so since about 5000 B.C. I imagine my long-ago sisters found it as handy to serve as I. It also gets points for being cheap and nutritious.
With the scent of curry in the air and a bowl of rich, golden soup in front of you, you need something to read while you enjoy it. Why not go to my Home Page, scroll down and download The Storytellers' Bouquet. It includes four free short stories from myself, Jana Richards, Lesley-Anne McLeod, and Annette Bower. Four very different stories that will warm your heart while the soup warms your belly.
My favorite soup scene from a movie goes to the 1996 version of The Birdcage with Robin Williams and Nathan Lane. Armond and Albert are putting on a false straight front for their newly engaged son, Val. Dinner is a debacle and the Guatemalan peasant soup (minus the shrimp) ends up being served in bowls patterned with nude young men. Hilarity ensues. That has got to be one of my favorite movie dinner scenes of all time.
Check below for the first couple of paragraphs of Waiting For Mason. Now onto the soup!
Curry Butternut Squash Soup
1 Butternut Squash, peeled, de-seeded, and cut into cubes
1 Box of Vegetable Broth
1 Can of Lite Coconut Milk
2 Cans of Navy Beans (540 mL or 19 oz size)
2 Stalks of Celery, Chopped
2 Carrots, Chopped
2 Cloves of Garlic, Pressed
2 TBSP Curry Powder
1/2 TBSP Garam Masala (or a mixture of Nutmeg, All Spice and/or Cinnamon)
1 TBSP Salt
1 TSP Black Pepper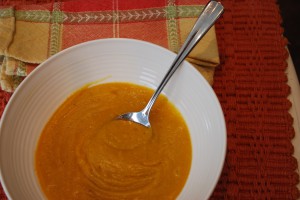 Combine everything in a large crockpot. Simmer on low for 4 hours. Stick-blend in crockpot until smooth.
Or
Toss everything in a large stock pot and simmer until vegetables are soft. You can also use a traditional blender to cream the ingredients.
Waiting for Mason – A Short Story
In the waning light Willa Harris surveyed her version of the prettiest spot on earth. With its shelter of wolf willows and cottonwoods, the tranquil calm of the lake, it soothed her battered heart. She struck a red-tipped match. Held the tiny flame to the bits of dry grass and twig she'd arranged in the middle of an irregular circle of stones. It whiffed out in a puff of wind.
The second match survived the odds and sparked at the broken bits of branch. She held her breath, delighted when it caught. She needed the heat. Tonight the many miles between the rustic Qu'Appelle Valley and her native Toronto were adding up to doubts. She tossed on a couple of smaller branches. Not about setting down roots here. Or Mason. The dry wood caught and she leaned in closer to catch the flare of heat. She reached for her backpack, the motion jarring her swollen ankle. Could she convince Mason she belonged here, too?
Okay, maybe she could use a crash course in backwoods smarts, on how to survive on ants and tree bark tea, that kind of thing. Hiking without falling victim to a sprained ankle. But she was trying. Hadn't she'd trekked in alone to their special spot? Set things up? Okay, half set things up, but still it proved she was crazy about Mason Shaw, protector of the wild things. Didn't it?
The darker the night sky and the brighter the moon, the more she felt like maybe Mason wasn't coming. What if he hadn't found her note? What if he didn't show? What then? It'd be her and the howling coyotes. No. Mason would come looking for her. He was like that, straight up honourable in an old fashioned Camelot style that stretched way beyond appealing. She could count on Mason to do the right thing even when he'd rather not.
So, do you have a favorite soup? Want to share a book recommendation? Maybe you have a favorite soup scene from a movie or book? Today's the day to share!