Tonight is book club night. One of my favourite nights! We sit. We eat. We drink. We share. We talk about a book.
Tonight the book is The Pearl That Broke Its Shell by Nadia Hashimi.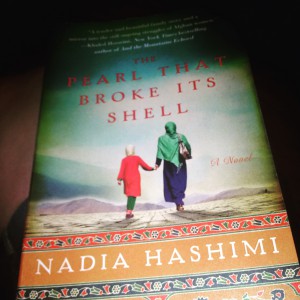 Kabul, 2007: The Taliban rules the streets. With a drug-addicted father and no brothers, Rahima and her sisters can rarely leave the house or attend school. Their only hope lies in the ancient Afghan custom of bacha posh, which allows young Rahima to dress and be treated as a son until she is of marriageable age. As a boy, she has the kind of freedom that was previously unimaginable . . . freedom that will transform her forever.
But Rahima is not the first in her family to adopt this unusual custom. A century earlier, her great-great-grandmother Shekiba, left orphaned by an epidemic, saved herself and built a new life in the same way—the change took her on a journey from the deprivation of life in a rural village to the opulence of a king's palace in the bustling metropolis of Kabul.
Crisscrossing in time, The Pearl That Broke Its Shell interweaves the stories of these two remarkable women who are separated by a century but share the same courage and dreams. What will happen once Rahima is old enough to marry? How long can Shekiba pass as a man? And if Rahima cannot adapt to life as a bride, how will she survive?
My thoughts:
Honestly, I wasn't looking forward to this pick. I just didn't know if I had the emotional energy to read what I felt was sure to be a depressing story. I know, such a whiner! It's embarassing to admit how much of one I must have seemed. But kudos to Nadia Hashimi. She wrote a powerful story that covered very difficult topics and brought to life the reality of exsistence in Afghan for women under the rule of the Taliban. And she made it readable and inspiring and hopeful.
Reading this book reminded me of the time my son came home from a school trip to El Salvador. Their purpose for being there was not to offer charity. They did not go to build houses or schools. Not that there's anything wrong with wanting to help your fellow human beings. But that was not what their trip was about. They were there to listen to the stories of the people. It was hard. Heartbreaking. At times, unbelievable. They stood on the spot Oscar Romero was assassinated. Stood on the banks of the river where so many people died. Other places too. And they listened. Because that's what the people who had invited them in wanted. Sometimes that's the hardest thing that can be expected of you.
The Pearl That Broke Its Shell is fiction, and at the same time not.
"Ultimately, I wrote this story to share the experience of Afghan women in a fictional work that is made up of a thousand truths." Nadia Hashimi
They brought the stories of their hosts back and gave a face and humanity to a people I'd only thought of in the abstract. That is what this book made me think of: those stories that need to be listened to and repeated. The importance of education. Of how powerfully motivating the taste of freedom can be, even if you've only been given a morsel. Of how much a human being can take and still be able to stand.