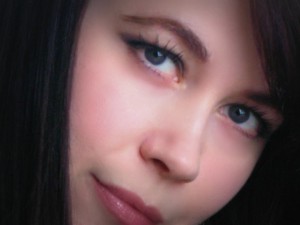 I'm very excited to welcome Joanne Brothwell to my blog today! She's here to answer some questions and share a little bit about her debut release, Stealing Breath. Not only is Joanne a super talented writer she's also my critique partner and a member of my writing group. Her energy and enthusiasm never fail to inspire me. I couldn't be more proud to have her here.
Tell us a bit about your latest release. Can you sum it up Twitter style?
Indigo Child. Empath. Beware!  OR  Infatuation + Supernatural = Flash/Bang
I'd say that works! What was your inspiration for Stealing Breath?
One of my friends, an Indigenous woman, told me a story of a time she was on a road trip in the US. It was the middle of the night and she was growing too tired to continue driving, so she pulled her car over to the side of the road, somewhere in Arizona near the "four corners" (Arizona, Colorado, New Mexico and Utah). She planned to have a nap, but was startled awake when her car started rocking as if someone was jumping on her car, their mocking laughter outside sending shivers up her back. Quite abruptly it stopped, and when she spoke to some of her Navajo relatives later, they said these tricksters were Skinwalkers, people who practiced "Bad Medicine" and could perform astral-projection!
Okay, that gave me shivers. It's very interesting how you've woven Native American lore into your story! Is Stealing Breath part of a series?
Yes! Book two is in the process of being assigned an editor, and book three is still spinning in my mind.
Excellent, I can't wait for the next one! Who are your writing influences?
Cassandra Clare (The Mortal Instruments). I love Cassandra's richly detailed prose and how her characters resonate with me. I anxiously await every new book!
What's next? What are you working on now?
My current WIP is titled "The Fifth Daughter of Eve", and it's more science fiction than paranormal. I pitched the concept to ten agents/publishers recently at a convention, and most of them seemed very enthusiastic about the idea. I guess I'd better get it finished!
Time for some favorites!
Your favorite fictional character?
It used to be Jace Wayland from City of Bones, but currently it is Christian Grey from Fifty Shades of Grey (don't tell Hayley)!
She won't hear it from me! 50 Shades of Grey is on my book club's list for this fall. Can't wait! Have you heard that Ian Somerhalder's name is being tossed around to play Christian in the upcoming movie?
Your favorite romantic gesture?
Neck kissing. I totally love it when the male lead kisses the heroine's neck!
Your favorite quote?
"Not everything is about you," Clary said furiously.
"Possibly," Jace said, "but you do have to admit that the majority of things are."
― Cassandra Clare, City of Glass
Love it! Your favorite stress reliever?
Reading, of course!
Finally, who would you rather be stranded with…and why? Sam and Dean Winchester? Or Stefan and Damon Salvatore?
Okay. It was really hard to pick, so I'll give the reason why I didn't choose Stefan and Damon.
Stefan and Damon Salvatore
With Stefan and Damon, I'd have their total hotness to gape at, their supernatural vampire powers to protect me, and I could watch as they tore people apart with their teeth or ripped people's hearts right out of their chests. The problem is, when they got all fiending with me, it might seem like a really bad idea for me as a human to be stranded with two (eventually hungry) vampires.
Sam and Dean Winchester
If I got stranded with Sam and Dean, I'd have two big, strapping lads to protect me and kick some serious demon ass. Then I could drink beers with them at the end of the day and watch rippling muscles flex as they cleaned their rifles, all the while listening to them tell off-colour jokes. It'd be great fun!
Those are great reasons! Thanks for answering my questions, Joanne. Now it's time to show off your beautiful cover and introduce Stealing Breath!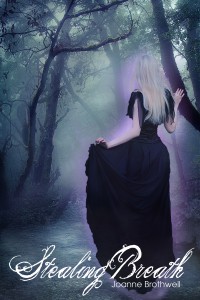 Deep in the backwoods of North Dakota, Sarah Ross is searching for a missing child when she is attacked by a glowing-eyed, transparent creature known to the Navajo as a Skinwalker. Using mysterious abilities, Sarah escapes, only to run directly into Evan Valente, a handsome, charismatic stranger who helps her back to safety. But why is Evan out in the forest so early in the morning?
Sarah learns her eyes bear the mark of the Indigo Child, an evolved human with the ability to feel the emotions of others; unfortunately, her indigo aura is highly desirable to not only Skinwalkers, but others who wish to steal her powerful essence.
Soon, Sarah falls deeply in love with Evan and wants nothing more than to follow her heart, but she can't ignore the lingering feeling that Evan is hiding a terrible secret. The deeper she digs, the more danger she faces, forcing her to face the darkest, innermost parts of her soul.
Joanne is happy to answer any questions!
Where to find Joanne Brothwell.
Joannebrothwell (at) sasktel (dot) net
Purchase Stealing Breath at Crescent Moon Press
Website:  www.joannebrothwell.com
Blog:  http://www.joannebrothwell.com/blog.html
Facebook:  http://www.facebook.com/JoanneBrothwell
Twitter:  @JoanneBrothwell