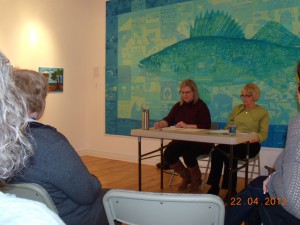 I participated in a reading last week at a lovely small town Saskatchewan library along with a friend of mine, Annette Bower. I read from my romantic suspense, Backlash, and she read from her newly published e-book, Moving On: A Prairie Romance. An old converted school house with original tin ceilings and hardwood floors, it contained a small library and an art gallery. We read in a cosy room in front of a beautiful mural created by young local artists to fifteen or twenty interested attendees.
I had a very entertaining conversation with an older woman who hadn't read a book of fiction since high school. It's true. Apparently, it's possible to go fifty or sixty years without reading a book. I'm sure she's enjoyed many other creative pursuits, but still…
I thought about all those times I've read books to save my sanity. Like recently, when I found myself awake at 2:00 am three or four nights in a row because I was coughing and couldn't sleep. Tucked up in bed, propped up against a mound of pillows, Vicks Vapor Rub smeared on my chest, waiting for the cough medicine to kick in, I poured through four books.
On those bi-monthly weekend Greyhound bus rides from Regina to Saskatoon to visit my now husband in my twenties. Airports, hotel rooms, doctor's offices. What do people do in these places if they aren't reading? Okay, excluding hotel rooms!
On our way home from the reading we talked about creative ways to promote ereaders and ebooks. Someone mentioned their niece reading on her ereader while breastfeeding her baby. Oh, how I wished I'd had one way back when to pass those long hours.
It's been a long day and the next one promising to be just as long. What do you do? You pick up a book and allow the story to sweep you away. There's nothing quite like immersing yourself in a great book. I'll even take a not-so-great book over no book. I've used books to soothe away teenage angst. I remember once, shortly after moving away from home for the first time at eighteen, a group of girlfriends got together one night to watch the movie: Texas Chainsaw Massacre. I read an entire Harlequin romance once I returned home to my dark, little, very empty house. I don't remember the name of the story, but it saved my sanity that night.
When has reading saved your sanity?
I hope you check out my friend, Annette Bower and her new release, Moving On – A Prairie Romance.
Moving On-A Prairie Romance
Anna is a mysterious woman that has just moved to Regina Beach. The residents of the small town know everyone's business and they are very interested in discovering Anna's secrets. Nick was a Sergeant in the Canadian Army, doing active duty until a horrific accident sent him home to recover. He helps Anna feel safe and comfortable in her new environment, just as he has always done for his men in strange, dangerous places. Meanwhile, he focuses on preparing for his future physical endurance test to prove that he is capable of returning to active duty.
Anna doesn't talk about her past, and Nick doesn't talk about his future therefore she is shocked to discover that his greatest wish is to return to active duty. She won't love a man who may die on the job again. Intellectually, she knows that all life cycles end, but emotionally, she doesn't know if she has the strength to support Nick.