I'm very happy to be hosting the lovely Kate Austin. A wonderful writer, she also happens to be a fellow Canadian, but from an entirely different part of the country.
I live on the ocean, write women's fiction, love to read so much that it's an addiction rather than a hobby (I read an average of a book a day). I live on the wet west coast so it's a good thing that I like to walk in the rain.  Kate Austin
I'm a foodie so this is a tough blog for me to write. I love good food, whether I'm cooking a meal at home for friends, eating out at one of my favorite neighborhood restaurants (I live in downtown Vancouver so my neighborhood has more restaurants than you can count), or when I'm traveling. But meals for me–the great ones–are all about companions. A bowl of rice and vegetables with a good friend I haven't seen for a while is a great one; a burger and a beer with a couple of pals is a great one; crackers and cheese and a bottle of wine while talking on the phone with my best friend (who now lives right across the country) is one of the best, although seeing her in person is even better.
So I could talk or write (my books are often about food and meals with friends) about food and great meals forever–the one I had in Rye, England after three weeks of miserable weather and food, or the pizza I had in Bellagio on Lake Como, or the best ever food and service I had in a small hotel in Calais–but I don't want this blog to on forever (which it could), so I'll tell you about the nicest meal I've had in the past couple of weeks.
Our friend Patrick–my partner also works in the hospitality industry–works at one of my favorite places to go. It's one of the most beautiful places in Vancouver (which is really saying something) – the Cascades Lounge at the Pan Pacific Hotel. Here's a picture of the view from the window.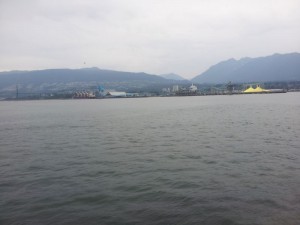 And here's a picture of the amazing meal we split –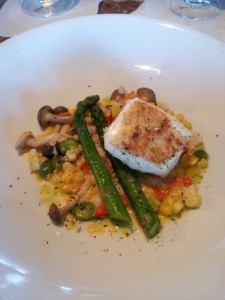 The meal was fennel and lavender dusted halibut (and I love halibut), with corn succotash and asparagus. It was full of flavor, each taste–sweet and salty and tangy–complementing the others perfectly. Add to that the gorgeous basket of bread we also ate, chatting with a good friend, and looking out at the amazing view (and, oh, did I mention the Prosecco and Rolling Rock we drank?), it was one of those perfect meals.
I love evenings like that. How about you?
Kate
You can find Kate at:
http://kateaustin.blogspot.com/
https://twitter.com/KateAVancouver