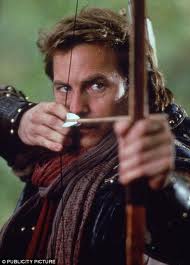 I love cheesy movies. I don't need to tell you that wine goes good with cheese. Everyone's already aware. But if you're looking for a recommendation try Wonderwall, a lovely Shiraz out of Australia. Delightful. Now, onto the cheese. I could also add an addendum here about falling for Alan Rickman. Because my pick for best cheesiest feel good movie ever is Robin Hood, Prince of Thieves. With Kevin Costner. I never got tired of watching it. There's something about prowess with a bow and arrows that is very appealing.
Maybe I have tree house envy. For an exiled group of outlaws, they built an incredible fortress in Sherwood Forest without access to anything. Like a Home Depot. Or Lowe's. Or nails. And they way they got the blacksmithy up and going and manufactured all those swords was nothing short of a miracle.
And then there's my love for Alan Rickman. See how I tied that all in together? And also because Robin Hood is one of my favorite stories. I also loved the recent Russell Crowe version. But that's another blog post. Which I wrote but can't find.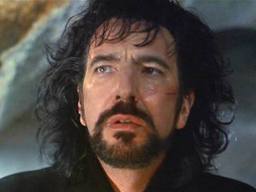 Let's start with the Sheriff of Nottingham, should we?
"That's it then. Cancel the kitchen scraps for lepers and orphans, no more merciful beheadings, and call off Christmas."
Yep, he's a badass. In the best, cheesiest way possible.
We won't get into Kevin Costner's sometimes-it's-there-and-sometimes-it's-not accent. He's still adorable as Robin Hood.
I've seen knights in armor panic at the first hint of battle. And I've seen the lowliest, unarmed squire pull a spear from his own body, to defend a dying horse. Nobility is not a birthright. It's defined by one's actions.
I swoon in the face of such clarity of thought. For a member of the aristocracy he's quite liberal in his thinking. I guess fighting with King Richard all those many years and then escaping as a prisoner of war gives one perspective.
And let's not forget his I would die for you line. More sighing ensues.
Then there's Morgan Freeman. Whom I love. Because he's Morgan Freeman. And he has that excellent voice. He could be reading instructions from a shampoo bottle and I'd still listen.
A wise man once said: "There are no perfect men in the world; only perfect intentions."
I mean, come on!
Are you with me? Or do you have your own pick for best, cheesiest movie ever?