Not gonna lie, I read it because of the hype. Never would have picked it up otherwise. But I'm so glad I did.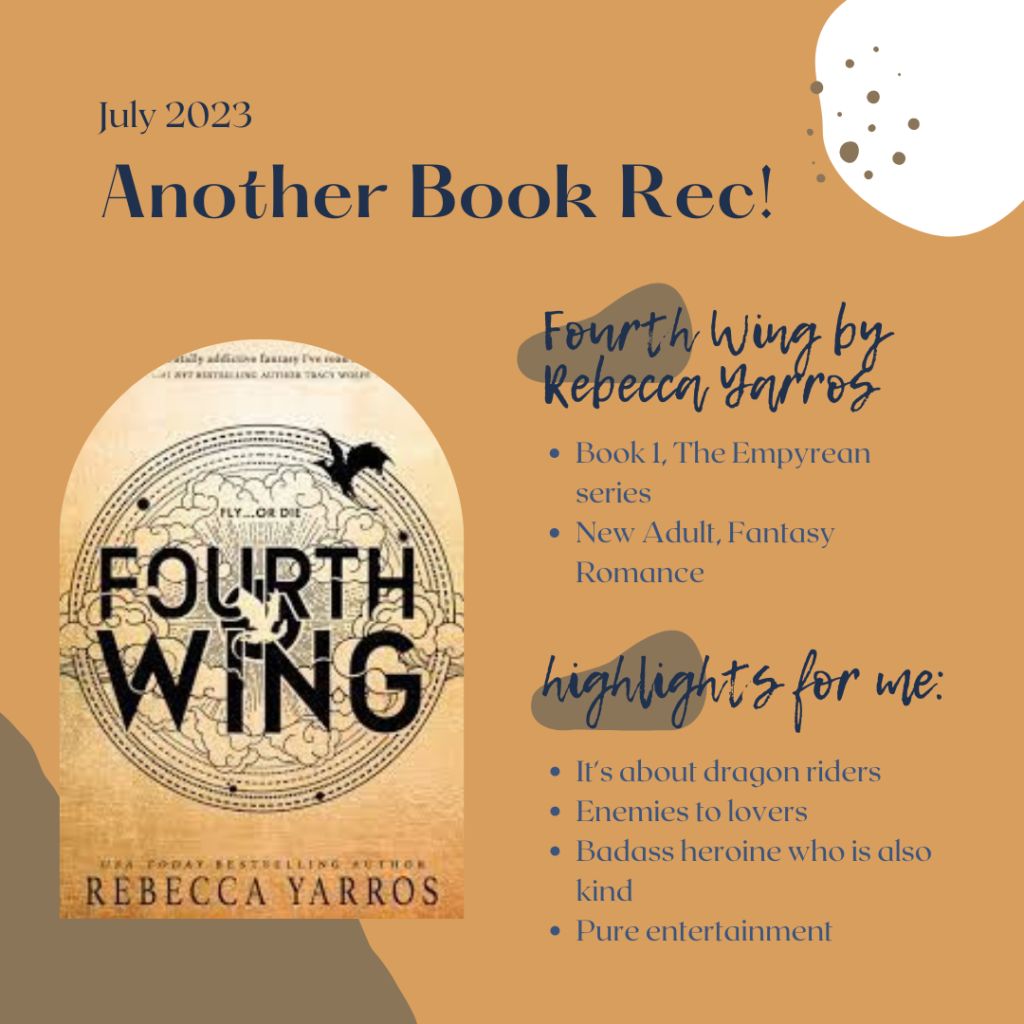 Fourth Wing, Book 1 The Empyrean series by Rebecca Yarros
Published: May 2023
Categories: Young Adult / Fantasy Romance
Blurb:
Twenty-year-old Violet Sorrengail was supposed to enter the Scribe Quadrant, living a quiet life among books and history. Now, the commanding general—also known as her tough-as-talons mother—has ordered Violet to join the hundreds of candidates striving to become the elite of Navarre: dragon riders.
But when you're smaller than everyone else and your body is brittle, death is only a heartbeat away…because dragons don't bond to "fragile" humans. They incinerate them.
With fewer dragons willing to bond than cadets, most would kill Violet to better their own chances of success. The rest would kill her just for being her mother's daughter—like Xaden Riorson, the most powerful and ruthless wingleader in the Riders Quadrant.
She'll need every edge her wits can give her just to see the next sunrise.
Yet, with every day that passes, the war outside grows more deadly, the kingdom's protective wards are failing, and the death toll continues to rise. Even worse, Violet begins to suspect leadership is hiding a terrible secret.
Friends, enemies, lovers. Everyone at Basgiath War College has an agenda—because once you enter, there are only two ways out: graduate or die.
My Thoughts:
Look, if you're looking for pure entertainment and escapism, this is the book for you. The action starts on page one and doesn't let up until the last page. Also be warned, it ends on a cliffhanger. There will be five books in this series with the next one coming out in November this year. Thank goodness!
I loved it. I wish I could erase it from my memory and have the chance to read it again for the first time. I'll probably read it again anyway. And I don't do that often. There's just something about this damn book. I don't read young adult or new adult at all anymore. I avoid books written in first person point of view. (I've got to narrow things down somehow. There's a lot of books out there.) This book is both those things. Like I said, I read it because of the hype.
But I love Violet. She's smart and kind. She doesn't blindly follow the rules. She doesn't break them without cause either. Xaden. He's ruthless. But he's fair. And he'll do anything to protect the people entrusted to his care, which is the sexiest thing ever. Also, anyone who knows me well, knows my favourite trope is enemies to lovers. Check. Violet and Xaden don't like each other, they don't trust each other. For very good reasons. But their chemistry is off the charts.
The dragons. There's nothing kind or gentle about them. Their loyal to each other first. The place second. Their rider third. If the rider manages to earn it. If they don't, they die. But there are a lot of ways to die in this book. Too many to count. Just like the tagline states: Ride…or die. It's got strong Hunger Games and Divergent vibes. So, if you don't enjoy that kind of thing…well, this might not be the book for you. But if you want to take a chance and have a summer fling with a book you might not normally read, this would be the book to pick. If you can find it. It's selling out all over the place. Highly recommend!
Until next time…
What's a book you've read because of the hype?