This time of year can be…intense. Expectations, from others and from within, can really mess with my mental state during the holidays. Before I know it my brain is going in a hundred different directions, besides than the hundred paths it's already trying to follow. My way through is usually to have lists for all the things because I'm an organized person. But this year I'm not even close to anything resembling order. Who else is exhausted? Or is it just me?
The picture below is the mediation labyrinth at what was once a conference centre where we went for writing retreats a couple of times a year. You follow the same path in and out, which makes it different from a maze which usually has more than one exit and entry point. The idea being that walking in a circle blocks your sense of direction and the outside world, quieting your mind.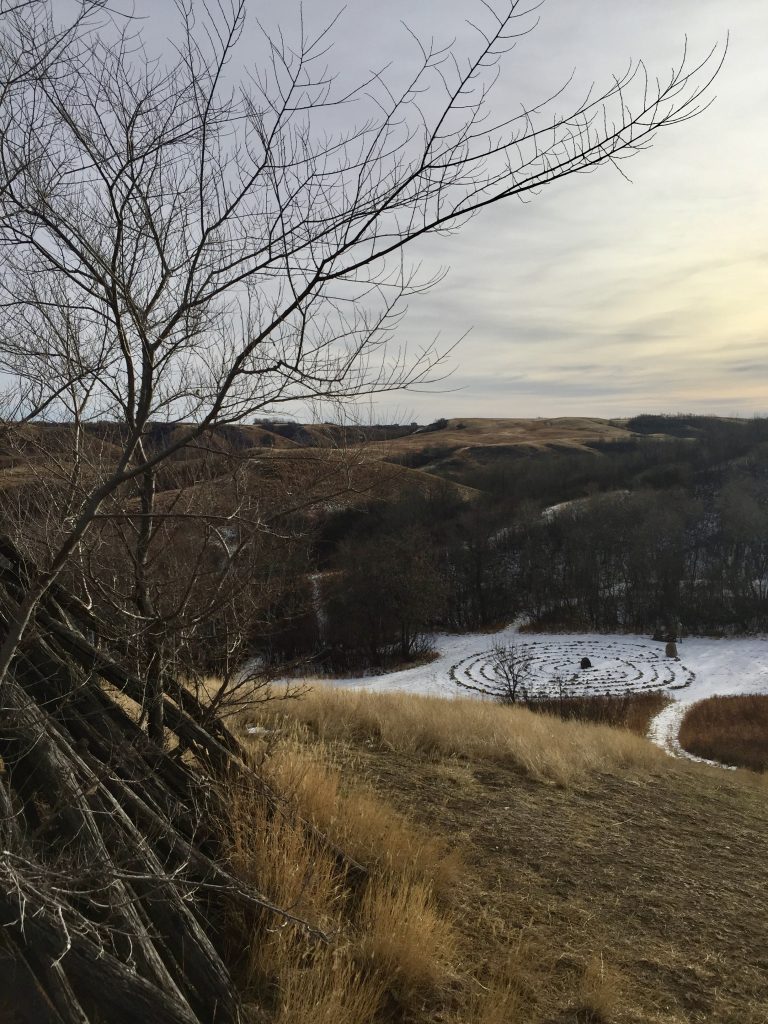 Being outside even viewing scenes of nature is great for our mental health. It reduces feelings of anger and fear. It positively affects your physical wellbeing by reducing blood pressure and slowing your heart rate. Our daughter has an intellectual disability and suffers from anxiety. One of her favourite way to reduce stress is a drive in the car around the large urban park in our city. Often we park and watch the birds. She's a huge bird nerd. No radio. No distractions. Just what's happening outside her window.
Winter Stress Relievers That Don't Cost a Thing:
Laugh. A big belly laugh. Small chuckles. Even fake laughs have health benefits. It can ease pain and reduce your body's stress response.
Take a Deep Breath. There are several ways to improve your technique so that you are sending much needed oxygen to all the right places and not taking shallow breaths with less benefits.
Hugs. I first read about hugging as a stress reliever in the book: Burnout. I always knew hugs were great, but I didn't realize they had physiological benefits. Of course, you need another person for this. But giving and receiving a long hug really works. After about10 seconds you can feel your shoulders drop and your body relax.
There are other ways, of course. I found this great article: Stress Relief: 18 Highly Effective Stress Relief Strategies.
None of these things are a replacement for medical treatment or proper care. Speak to your doctor if you are struggling. Book an appointment to see a therapist. I know from personal experience that it helps. We've all heard of the tragic death by suicide of Stephen tWitch Boss. If you, or a loved one, are struggling with suicidal thoughts and live in Canada, call 1.833.456.4566. Or call: 911. Or text: 4566. Or please check out the Talk Suicide website.
Until next time…
What is your favourite way to decrease stress?