We like to keep things interesting. So, this spring and summer season, we decided Friday nights will dinner (in the form of appetizers) followed by an 80s movie.
We started with Flashdance. And a charcuterie board. Yummy!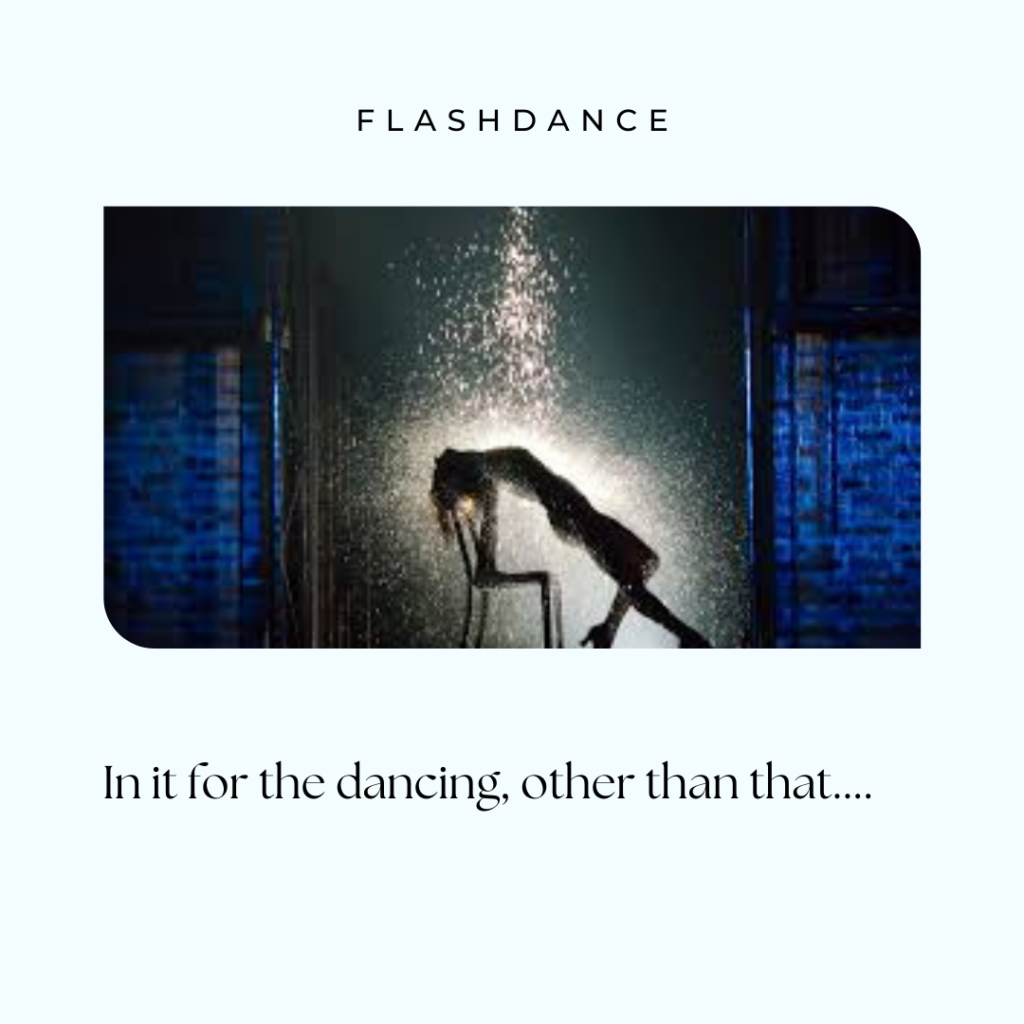 Believe it or not, this 80s girl had never watched Flashdance. But like every other 80s girl, I owned a version of the grey iconic oversized, falling-off-the-shoulder sweatshirt. You know the one.
Spoiler Alerts Head.
So the plot.
This movie is an 80s era Cinderella tale. Parentless, eighteen year old Alex lives on her own, works two jobs, and dreams of being a prima ballerina. She has no formal training but she's incredibly talented and dances at night as an exotic dancer at a bar/nightclub. When she's not dancing, she working her day job as a welder. She also rides her bike all over Pittsburgh. Of course, she falls for her divorced boss, who's also somewhat young, and very handsome. And successful. Most of the non-dancing scenes follow their budding relationship.
Does it stand the test of time?
The music is awesome. The cinematography is fantastic. The dancing is fabulous. Kind of like a music video. Because, hello, 80s. Other than that, it's what happens when a man tries to write a romance headlining a strong female character. We end up with a teenager sleeping with her boss. Said boss also secures her the coveted dance audition behind her back. Takes his ex-wife to a function instead of her. But don't worry it didn't mean anything, please don't be mad at me. Here, look, we'll have more sex and everything will be okay.
Warning; Also includes racial slurs and exploitation of women.
This whole idea of watching retro movies, besides loving the 80s, was inspired by one of my favourite podcasts.
Hateful optimists and loving pessimists Kat Angus and Jocelyn Geddie break down movies and TV shows that they totally despise… but also really adore at the same time.
Warning: If you don't care for swear words this is not the podcast for you! But it's also funny, smart, and talks about pop culture in a way that's brilliant and appealing.
Until next time…
Any favourite, and easy, appetizer suggestions? Movie recommendations? I'd love to hear them!