I love this time of year, and always have. Not only is it back-to-school time (I loved school when I was a child), but I have a September birthday so I equate autumn with presents. Personal greed aside, the cooler days and crisp nights are refreshing after the heat of summer. I can't wait until it's cold enough to dig my favourite sweaters out of storage.
My food cravings change this time of year. I wonder how much of that has been programmed, you know, that whole nature vs. nurture debate. Regardless of the cause, the effect is that I search for recipes that use apples, pumpkin, cinnamon and ginger. On the savoury side, I'm cooking a lot of root vegetables and have retired my salad spinner until spring. Supper this evening was a hash consisting of potatoes, turnips, carrots, kohlrabi, shallots and bacon. A side dish of steamed broccoli, the last few stalks from our garden, completed the plate of comfort food.
The recipe I want to share is one I always look forward to baking once the weather cools. It's one of my all-time favourite cookies, second only to the half-dozen types of holiday cookies I bake every December. Can you tell I like to bake?
Iced Pumpkin Cookies (adapted from Allrecipes)
2 ½ cups all-purpose flour                              1 cup canned pumpkin puree
1 teaspoon baking powder                             1 egg
1 teaspoon baking soda                                  1 teaspoon vanilla extract
2 teaspoons ground cinnamon
½ teaspoon ground nutmeg
½ teaspoon ground cloves                              3 cups icing sugar
¼ teaspoon ground ginger                              5 tablespoons milk (+/- )
½ teaspoon salt                                               2 tablespoons melted butter
½ cup butter, softened                                    1 teaspoon vanilla extract
1 ½ cups white sugar
Preheat oven to 350 degrees F (175 C). Combine flour, baking powder, baking soda, cinnamon, nutmeg, ground cloves, ground ginger and salt. Set aside.
In bowl of mixer, cream together the ½ cup butter and white sugar. Add pumpkin, egg and 1 teaspoon vanilla, and beat until creamy. Mix in dry ingredients. Drop by tablespoonfuls on cookie sheet (I line my cookie sheets with parchment paper).
Bake for 15 – 20 minutes (my oven takes 17 minutes) until bottom of cookie is golden. Cool on sheet for a few minutes, then transfer to cooling rack to cool completely.
To make icing, combine icing sugar, melted butter, vanilla and enough milk to achieve smooth, fluffy consistency. Spread on completely cooled cookies.
Notice that this recipe leaves half a can of pumpkin puree left over. Perfect for making another batch of these cookies, because you may find these tend to disappear.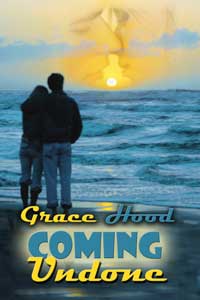 Career-minded Lara doesn't find forty all that fabulous. Her carefully plotted path to success is on target and she isn't about to let romance derail her. Except the hot, new advertising whiz steers her libido into overdrive.
Ryan lives to shake companies up and do whatever it takes to meet his goals. But the saucy affirmation-chanting minx challenging him awakens a more carnal desire.
A battle of wills may be what she wants, but he intends to push her boundaries until her inhibitions come undone.
Coming Undone – The Wild Rose Press – Amazon – Barnes and Noble
Grace Hood has been creating adventures for her imaginary friends since childhood. As soon as she discovered, and devoured, her grandmother's stash of medical romance novels, all plots had to lead to a happily-ever-after.
Grace writes full time, concentrating on sexy, steamy contemporary romance, hot paranormal romance, and spicy historical romance.
Born and raised in Nova Scotia, Grace now lives in Maine with her dear husband, two teenagers, two cats, one budgie, one surviving gold fish, and six hens. When she's not torturing her heroes and heroines, she can be found either in her kitchen whipping up something chocolate, or in her yard chasing the chickens out of the garden.
Find more about Grace Hood and her books at her website.