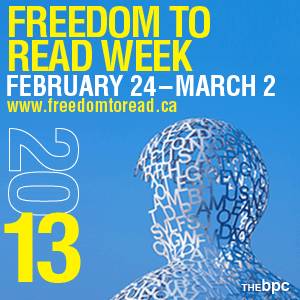 You know what goes great with conversations about banned books? Hot chocolate with those little marshmallows sprinkled on top. Some of the sweetest treats go with the sweetest books. And some of the sweetest books are banned or challenged books, like Tango Makes Three by Peter Parnell and Justin Richardson or My Princess Boy by Cheryl Kilodavis.
Some of my children's favorite stories have shown up as banned books. My son loves A Wrinkle in Time by Madeleine L'Engle. My daughter loves James and The Giant Peach by Roald Dahl. We all love the Harry Potter books by J.K. Rowling. We spent a lovely winter weekend when my son was six and my daughter was four in a cabin with no television and no stereo reading Harry Potter and the Philosopher's Stone aloud. A dozen years have past but I still hold that weekend close in my memory. Toasty warm under layers of blankets, the scent of hot chocolate on the air, the taste of gooey sweet marshmallows on our tongues we journeyed with a boy wizard to a magical place that was as fascinating and it was treacherous.
You know what else goes well with childhood and books? Sweet treats. Remember those squares made with colored marshmallows, peanut butter and butterscotch chips? I've only had them a handful of times since I was a kid. They remind me of being a kid. Yummy! How about Rice Krispies cake? I loved coming home from school to find snacks and goodies waiting for me. I'd nibble away, read, and try to avoid my chores. I read a lot of books, banned and otherwise. Not that I knew it. Chances are no one in my house, including me, knew some poor-misguided, naysayer to our freedom of expression was challenging the books I was reading. Had they known they wouldn't have cared, so there was nothing and no one to stop me from reading Little House on the Prairie by Laura Ingalls Wilder or Anne Frank: The Diary of a Young Girl by Anne Frank, Charlie and The Chocolate Factory by Roald Dahl.
Want to start a conversation? Not quite sure how? Try reading Judy Blume's "Places I Never Wanted To Be".
Today it is not only Sex, Swear Words and Lack of Moral Tone — it is Evil, which, according to the censors, can be found lurking everywhere. Stories about Halloween, witches, and devils are an suspect for promoting Satanism. Romeo and Juliet is under fire for promoting suicide; Madeleine L'Engle's A Wrinkle in Time, for promoting New Age-ism. If the censors had their way it would be good-bye to Shakespeare as well as science fiction. There's not an ism you can think of that's not bringing some book to the battlefield.
Our fears are not our children's fears. Our thoughts are not theirs. Our preferences are not theirs. They should be free to browse and explore. If there is something they feel they can't talk to an adult about hopefully they can find the answers in a book. Solace. Comfort.
What books did you love to read as a young child? What was your favorite after-school treat?