Q Is For Q&A With Jana Richards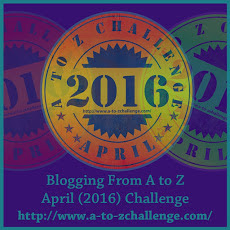 I so happy to have my friend and talented writer Jana Richards here answering questions about all things books and reading.Welcome to the A to Z April Blogging Challenge, Jana!
So Jana, inquiring minds what to know. What are you currently reading? and Why you picked it?  I'm reading three different books right now, in three different formats. I "read" audio books at the gym and currently I'm listening to Mary Balogh's Then Came Seduction. Why? Because I love Mary Balogh's books. On my e-reader I'm reading Please Release Me by Rhoda Baxter, who writes for one of my publishers. I was intrigued by the premise; on their wedding day, a couple is in a bad car accident, putting the bride in a coma. But this bride isn't going to let a coma stand in the way of her happily ever after. Can't wait to see how this one turns out. In print, I just started reading Somewhere in France, a WW1 romance. I saw this book on the Internet and it sounded so interesting I wanted to read it. I'm a sucker for a war romance. And it's written by Canadian Jennifer Robson.
Those sound like great reads, Jana. I'm currently reading The Lake House by Kate Morton, part of which takes place during WW1. I'm really enjoying it! Two of the authors are new to me, but you can't go wrong with any of Mary's books!
Following up with the usual qualifiers. E-reader or Physical Book? Choice of Drink While Reading? Favorite Reading Spot?  I can honestly say I don't have a preference between ebooks or print books. Both have their place. And I love audio books. They make working out at the gym, and long road trips, enjoyable.
My choice of drink – Water at the gym, and either coffee or wine at home, depending on the time of day. I have a comfy chair in my living room that I like to read in. I sometimes read in bed, but I have a tendency to nod off.
I want to know whom you're an unapologetic fan girl for? An author you've read the most books from?  Lifetime, I've probably read more Nora Roberts' books than anyone else's. Mary Balogh comes a close second. I'm definitely a fangirl of both. They are both so prolific and write such wonderful books. I'm deeply in awe!
I couldn't agree more with your picks! Love both their books! I've read a couple of hidden gems over the years. What book are you glad you took a chance on?  When I belonged to a book club I read some books I probably wouldn't have read on my own. One that comes to mind is Lord of the Flies – maybe not so much a gem as an experience. Speaking of gems, I contributed a novella, Chill Out, to The Wild Rose Press's Candy Hearts Series for Valentine's Day this year. I had the opportunity to read some of the other stories in the series, and maybe I'm biased, but I thought they were all little gems. A couple of my favorites were Ask Me by Laura Strickland and Be My Love by J.C. McKenzie.
It sounds like a lovely series, Jana! I promise not to carve it in stone anywhere important. Three of your all-time favourite books?  In no particular order:  A Knight in Shining Armor by Jude Deveraux; The Defiant Hero by Suzanne Brockmann; Slightly Dangerous by Mary Balogh.
I find most readers have an opinion on committing to a series. Book series fan? Favourite? Not a fan?  I love book series! I love being able to find out what happens to other characters, and hanging out in the world the author has created for just a little longer.
We romance readers love our heroes. Your overall pick for best book boyfriend?  Tucker Longstreet from Carnal Innocence by Nora Roberts. At first he comes off as this womanizing, good ol' Southern boy. I didn't like him at all. But then Ms. Roberts lets us find out who he really is, and Holy Smokes, I've been smitten ever since.
Hah, he sounds like a great book boyfriend. One of mine would be Cameron Quinn from her Chesapeake Bay Series! Time to 'fess up. Worst bookish habit?  Perhaps, on occasion, I have been known to read the last page first, just to make sure there's really going to be a happily ever after.
One of my mine involves a New Year's Eve stay at cabin that didn't have a television, let alone an Internet connection. We took turns reading the first Harry Potter book to our five-year-old son.  A dear to you reading memory?  When my youngest daughter was about six, she brought home a book from school about a child whose father had just died. It talked about the father's funeral and what the child was going through. I got choked up as I was reading it, and Rachel put her hand on my arm and said, "It's okay Mommy. It's not our Daddy." I don't think I'll ever forget my six year old trying to comfort me.
Ah, that's a sweet memory! Inspiration surrounds us. The name of a book or an author who has inspired your own writing?  So many authors have inspired me, but I'll just talk about three. I'm going to mention Mary Balogh again; I know when I read one of her books that I'm going to root for her heroine and fall in love with her hero. And I'm going to laugh and cry and feel the depths of sadness along with the highs of happiness. Her books are always an emotional read.
I love Rosamunde Pilcher. I'll never forget crying my way through "Coming Home" and not being able to put the book down. Perhaps it was that book, as well as "The Shell Seekers" that got me interested in writing World War Two stories.
I admire Nora Roberts' ability to always put me in her settings. She makes me feel like I'm right there with her characters, experiencing their surroundings, whether it's Chesapeake Bay or New York City or Ireland. And she's so prolific! As a writer, I'm in awe of the number and quality of the books she's written. As a reader, I'm thrilled to have so many to choose from.
Oh my gosh, I remember reading The Shell Seekers and being utterly enthralled with her storytelling ability. I loved that book! I think we would make excellent reading companions!
Thanks for being such a good sport and answering my questions, Jana! I'm always curious about other's reading habits and how it influences their writing.
Jana's book The Girl Most Likely is a wonderful read and will be a steal of a deal at 99 cents through May 13 to May 27th.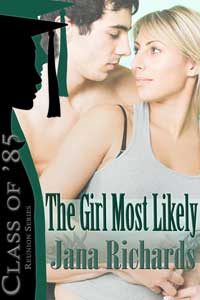 Cara McLeod, the girl most likely to have the perfect marriage, is now divorced and, in her own words, "fat, frumpy, and over forty." The thought of facing former classmates—and the ex-husband who dumped her—at her high school reunion terrifies her. Cajoled into attending by her kids and her best friend, Cara enlists help at the gym to lose weight and look great for the reunion. Personal Trainer Finn Cooper is more than willing to help—but does he have to be so to-die-for gorgeous?
Finn thinks Cara is perfect just the way she is. She's everything he wants in a woman, except for one thing—she can't get past the fact that he's eight years younger. To Finn, age and weight are just numbers. But can he convince Cara the numbers she worries about add up to only one thing for him—love?
Amazon * The Wild Rose Press * Kobo * iBooks * Barnes and Noble
Find Jana!
Website: http://www.janarichards.com
Blog: http://janarichards.blogspot.com
Facebook: http://www.facebook.com/JanaRichardsAuthor
Twitter: http://www.twitter.com/JanaRichards_
Amazon Author Page: http://www.amazon.com/author/janarichards
Amazon UK Author Page: http://www.amazon.co.uk/-/e/B002DEVWWG
Newsletter Signup: http://www.eepurl.com/m3UnT
Goodreads: https://www.goodreads.com/author/show/2892274Jana_Richards
Google+ Profile: https://plus.google.com/100820406211390323245
What are some of your favourite books to recommend?