Thank you so much for visiting today, Vonnie! What a wonderful glimpse of Paris you've given us. 
Karyn, thanks for hosting me today. I've been looking forward to our visit, so I could talk about food found in my favorite city. I often say that Paris is a feast for the senses. The beauty of the architecture, the smell of freshly baked breads, the hiss of espresso machines and popping of champagne corks, and the rich taste of French food. They do have a love affair with butter…and wine…and cheeses.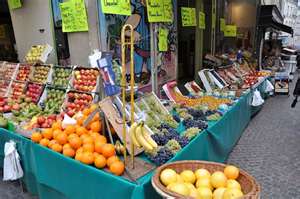 One of our favorite markets is along rue Moufftard on the Left Bank. Vendors set up their tables, artfully displaying their fresh fares early in the morning. By two o'clock in the afternoon, they are gone and the street is swept clean. French women with a net bag or a canvas shopping bag make their rounds. With small kitchens and refrigerators that often fit under the counters, storage room is next to nil.
Along with outside vendors, there are little shops barely larger than one's bedroom here in the States. When you enter these butcher shops, bakeries, cheese stores, florists, wine shops and seafood stores, you are greeted with a lyrical, "Bonjour, Monsieurs, Madames."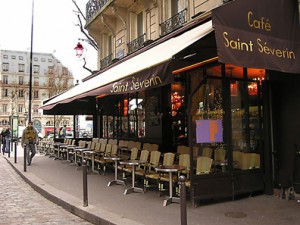 For a great bowl of French Onion Soup, or oignon soupe, we often go to Café Séverin on Boulevard Saint Michel. The restaurant is across the street from Place Saint Michel with a large statue and fountain, a meeting place for Sorbonne students. We often sit there for hours, writing and watching passersby.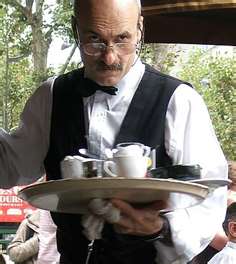 Unlike in America, where you are expected to move on once you eat, in Paris the price of a cup of coffee entitles you to a seat for as long as you want it. Tipping is different there, too. If the bill says the tip is included, then nothing more is left on the table. In fact, the French look down on Americans for over-tipping and consider it bourgeois, or a middle class person trying to make an impression.
Since onion soup is our favorite, I'm sharing my recipe with you today:
The onions for this soup need a long, slow cooking in butter and oil, then a long, slow simmering in stock for them to develop the deep, rich flavor.
1 ½ pounds or about 5 cups of thinly sliced yellow onions.
3 Tbsp. butter
1 Tbsp. cooking oil (I use virgin olive oil)
Cook the onions slowly in the butter and oil in a heavy-bottomed, 4-quart covered saucepan for 15 minutes, using low heat. Uncover, raise heat to moderate/medium and stir in a teaspoon of salt and ¼ teaspoon of sugar, which helps the onions to brown. Cook for 30-40 minutes, stirring frequently until the onions have turned a deep, golden brown.
Sprinkle in 3 Tablespoons of flour and stir for 3 minutes. Turn off heat.
2 quarts boiling brown stock, canned beef bouillon, or 1 quart water and 1 quart of beef stock.
½ cup dry white wine or dry white vermouth
Salt and pepper to taste
Pinch of parsley
 Blend the boiling liquid into the pan of browned onions. Add the wine, and season to taste. Simmer partially covered for 30-40 minutes, stirring occasionally. Set aside uncovered until ready to serve. Then reheat to simmer.
3 Tbsp. cognac (optional, I've found)
Rounds of hard-toasted French bread
2 Cups grated Swiss cheese
 Just before serving, stir in the cognac. Pour into soup cups over the rounds of toasted bread. Top each bowl/soup cups with grated cheese and place under broiler for a minute or two until cheese is brown in spots. Serve right away.
I often bake a roast the day before to get some of the broth. I also save a few slices of roast beef and cut it into tiny pieces while onions are cooking. I add the beef after adding the broth to produce a heartier soup.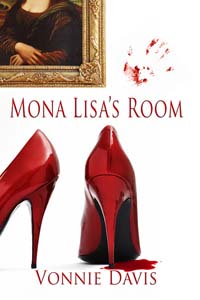 I'd like to share some information about my recently released romantic suspense set in Paris. Writing it was fun since it gave me a chance to visit so many of our haunts while visiting there. Here's the back cover blurb:
Gwen,
You won't believe this email. I'm sitting in a French safe house, eating caviar and drinking champagne with a handsome government agent, Niko Reynard. He's wearing nothing but silk pajama bottoms and mega doses of sex appeal. I'm in big trouble, little sister. He's kissed me several times and given me a foot massage that nearly caused spontaneous combustion. I'm feeling strangely virginal compared to the sexual prowess this thirty-year-old man exudes.
When I came to Paris for a bit of adventure, I never imagined I'd foil a bombing attempt, karate-kick two men, and run from terrorists while wearing a new pair of stilettos. I've met a German musician, a gay poet from Australia, and the most delightful older French woman.
Don't worry. I'm safe–the jury's still out on yummy Niko, though. The more champagne I drink, the less reserved I feel. What an unforgettable fortieth birthday!
Alyson
View the Book Trailer: http://bit.ly/MonaTrailer
BUY LINKS:
THE WILD ROSE PRESS (digital) — http://bit.ly/MonaLisaDigital
THE WILD ROSE PRESS (paperback) — http://bit.ly/MonaLisasRoom
AMAZON (paperback) — http://amzn.to/QQZGyD
AMAZON (eBook) — http://bit.ly/MonaLisasRoomeBook
FIND ME ONLINE AT http://www.vonniedavis.com
 I, too, have a love affair with butter, wine and cheese. But I'll happily settle for Niko and reading Mona Lisa's Room. And I'll remember to take my time as well as sip, and savor as I do!