I am so excited to be hosted Jana Richards today. Not only is she an incredibly talented storyteller but she's a friend. She's here to share her latest release, Home Fires, and talk about her love of baking.
Easy as Pie
I've always liked to bake. I remember as a teenager learning to make chocolate chiffon cake. It was the size and shape of an angel food cake, and had a light, airy texture that melted in the mouth and left a nice chocolate buzz. Brownies were also a favorite of mine to bake. I guess I had a thing for chocolate. Still do.
These days I don't bake much, due to a busy schedule and a concern for my expanding waistline. But one thing I still love to make is pie, especially for guests. Pie crust can be a tricky thing to master, and  honestly, my crusts don't always turn out as flakey as I would like. The perfect pie crust requires exact balance. Adding a little too much or too little of any of the ingredients can result in frustration and sometimes disaster. At least it does for me.
So when I was looking for a challenging dish for my heroine to master in my novel "Welcome to Paradise", I had her learn to make pies. Bridget is a talented chef who calls herself the "Queen of the Cocktail Party" because of her expertise with appetizers, but she has little experience with pie. The people of her small North Dakota hometown rally around to teach her. It takes a village not only to raise a child, but also to teach Bridget to bake!
Here's the recipe for pie crust I taught to Bridget:
Fruit Pie Pastry
3 cups all-purpose flour
1 tsp. salt
1 cup shortening (removed from fridge about an hour before using)
8 tbsp. ice water (approximately)
2 tbsp. milk
Place oven rack on lowest level and preheat oven to 450 F. Sift flour, then measure into a bowl that will accommodate it but isn't too big. Add salt. Add shortening to flour and use a knife to cut into dice-sized pieces. Then using a wide-bladed pastry blender, quickly combine shortening and flour until fully integrated and there's no loose flour in bowl.
Add ice water one tablespoon at a time in different parts of the bowl. Use a table fork to quickly stir mixture. If it doesn't start to form a ball, add another 1 to 2 tablespoons ice water and continue stirring vigorously.
When dough starts to come together in a ball, remove it from the bowl, shape it into a more uniform ball and cut in half. Generously flour a plastic pastry sheet or large wax paper. Place one of the dough halves in the centre and flatten slightly with your hand. Place a large piece of waxed paper on top and use a rolling pin on top of the waxed paper to work dough into a large, fairly thin circle that is large enough to cover the pie plate.
Remove waxed paper and gently fold circle of dough in half. Gently place it over the pie plate, unfold it and use your fingers to work it down to the bottom, against the sides and over the rim.
Repeat process with second ball of dough. Put prepared filling into pie crust. Moisten your fingers and dampen the edges of the bottom crust. Then put the folded upper crust over the filling and press the edges of the upper and lower crust together to form a seal.
Use a sharp knife to trim pastry along outside edge of pie plate, then use your fingers to crimp the edge to make a nice finish. Baste top crust, but not the crimped edge, with milk, then use a sharp knife to cut a pattern of vents in the top crust to allow steam to escape.
Bake pie on lowest rack of preheated oven for 10 to 15 minutes at 450 F and then reduce temperature to 350 F for 30 to 40 minutes. Let cool somewhat before serving.
And here's one of my favorite pie fillings. I got this recipe from my mom, and since we grow rhubarb in the garden, it's one I make often.
Rhubarb Pie Filling
2 ½ cups rhubarb
1 cup raisins (optional)
1/3 cup all-purpose flour
1 cup sugar
¼ tsp. salt
½ cup sweet heavy cream or whipping cream
1 egg
Combine all ingredients and pour into pie crust. Makes one pie.
With practice, Bridget eventually learns to master the pie crust, and eventually learns that baking, and love, is as easy as pie.
Do you bake pie? Do you have a favorite kind of pie?
Thanks, Jana. Home Fires is a delightful read and I highly recommend it!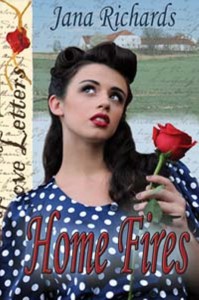 Anne Wakefield travels halfway around the world for love. But when she arrives in Canada from England at the end of World War Two, she discovers the handsome Canadian pilot she'd fallen in love with has married someone else. Heartbroken, she prepares to return to London, though she has nothing left there to return to. Her former fiancé's mother makes a suggestion: marriage to her other son.
Badly wounded and scarred during the war, Erik Gustafson thinks he's a poor substitute for his brother. Although he loves Anne almost from the first time he sees her, he cannot believe she would ever be able to love him as he is – especially as he might be after another operation on his bad leg.  Anne sees the beauty of his heart. The cold prairie winter may test her courage, but can she prove to Erik that her love for him is real?
Jana Richards has tried her hand at many writing projects over the years, from magazine articles and short stories to full-length paranormal suspense and romantic comedy.  She loves to create characters with a sense of humor, but also a serious side.  She believes there's nothing more interesting then peeling back the layers of a character to see what makes them tick.
When not writing up a storm, working at her day job as an Office Administrator, or dealing with ever present mountains of laundry, Jana can be found on the local golf course pursuing her newest hobby.
Jana lives in Western Canada with her husband Warren, and a highly spoiled Pug/Terrier cross named Lou. You can reach her through her website at http://www.janarichards.net
Follow the Links:
Website:  http://www.janarichards.net
To read an excerpt from Home Fires:  http://www.janarichards.net/ExcerptreviewsHomeFires.html
Facebook:  http://www.facebook.com/JanaRichardsAuthor
Buy Link for Home Fires:   http://www.thewildrosepress.com/index.php?main_page=product_info&cPath=176_145&products_id=4902
Amazon Author Page:  http://www.amazon.com/author/janarichards