Sexy Suspense
A to Z April Blogging Challenge
Quill as in writing implement, because that's what I've been doing. Writing. Well, editing really or rewriting, which I love. Therefore, I've fallen a wee bit behind on this blogging challenge. I kind of missed l, m, n, o, and p. Which is too bad because they're lovely letters.
I'd been waiting for that final piece of the puzzle to come to me and when it did I had to deal with the revelation. I was actually starting to get kind of worried that it wasn't coming. How was I going to tie it all together? What about the little hints I'd left? The trail of bread crumbs was going to lead to…nothing. Then it came to me. I should have dedicated the letter F to Faith and how I needed to remember to have some.
At that point in writing the first draft, usually this happenes about the halfway point, I need to go back and rewrite the first half so everything fits into place. Then I go on and write the last half. I know you're suppose to pump out all of the first draft first but that process doesn't work for me. I know, I tried it once. For National Novel Writing Month in 2009. The experience is still burned in my memory. It took me five years to fix that book. Okay, I didn't work on it for the entire five years, but it was such a mess I had to put it away until I figured out how to deal with it.
L is for Last Half
M is for Mess
N is National Novel Writing Month
O and P are for Pump It Out
Thankfully EXPOSED is set to release this year and I should get the date soon.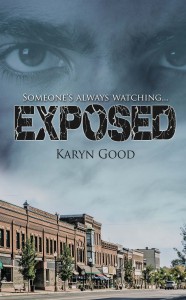 Kate Logan needs a safe haven, a place to start over after her modeling career disintegrates in scandal. But her hometown of Aspen Lake isn't the sanctuary she hoped. Her vow of a low-key life is disrupted by a break-in and other strange happenings at her boutique. As the chair of Aspen Lake's Gothic Revival Festival, she's also drawn the ire of a religious fanatic. Kate is up to her stilettos in drama and intrigue including one sexy carpenter who's determined to get in her way.
New to town, Seth Stone is seeking inspiration and solitude to concentrate on his art. Short on funds, he agrees to take on a second job restoring the damage to Kate's Closet. Trouble erupts along with the desire to get to know Kate better. When he's used as a pawn in a smear campaign against his gorgeous boss Seth fights back. But now the whole town is watching. Including the man determined to further his own agenda. Time is running out with nowhere to hide.