Here's a look at my top five winter essentials. Besides the necessities, like snow tires, shelter, and a great moisturizer. Things like scarves, tea and books!
Top Five Winter Essentials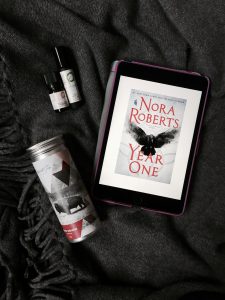 A Blanket Scarf
Okay, the first of my top five is the most extravagant item on my list. My fringed cashmere scarf comes from Kit and Ace, a Canadian company. And I'll tell you why I LOVE it. First of all, it fits in with my idea of quality, sustainable fashion. (I bought a cheaper $50 blanket scarf from Chapters/Indigo. It's soft and a lovely bright blue colour, but I wear a lot of black clothing and it sheds. Boo.) I bought my cashmere scarf two years ago and it's my constant companion. It hasn't aged, despite constant use. It's wonderful for trips (car, plane, train, any mode of travel), used as a shawl in my office, as an incredibly warm scarf (and extra layer) over my winter coat. It will last for years!
Books (Of course!)
My second on the top five list is a no brainer here! Books can get you through a lot of winter related challenges like blizzards and cold snaps. It rained here in January and created extremely icy conditions. People were skating in the streets! It made surfaces treacherous. My daughter has mobility issues and it made getting out and about difficult. Rather than risk falling, we stayed home. I mentioned my January reading list here. I felt laggy and draggy this morning so treated myself to an easy morning and finished Year One by Nora Roberts. Other than a couple of nitpicks, I enjoyed the characters, her take of what brings the world to it's knees, and her post-apocalyptic world.
Tea
I know there are a lot of coffee drinkers out there, but I'm a tried and true tea drinker and no top five list of mine would be complete without tea. I enjoy a cup of Earl Grey every morning. My favourite afternoon teas are Blood Orange and a Rooibos Cinnamon Chai. The evenings are spent sipping Peppermint or some type of citrus blend.
Essential Oils
I love essential oils! I tried a new blend today: 4 drops of Lavender, 3 drops of Bergamot, and 2 drops of Peppermint. It's said to promote serenity. It was very pleasant and I'd definitely use this mix again. There is also a congestion relief blend I often use: 2 drops of Eucalyptus, 2 drops of Peppermint, and 2 drops of Tea Tree. I'm also a big fan of this headache roll-on!
Netflix
What did we do before Netflix? Wait until our favourite shows came out on DVD so we could binge watch that way. Or store up episodes on our PVRs. We can still do this, but it's never worked for me. I forgot about the show and move on. My husband and I  just finished binge watching two seasons of Stranger Things. So. Good! It's honestly the first time we've been so committed to a show. Now to find something new to watch.
What are some of your winter essentials?
A reminder that the romantic suspense boxset, including BACKLASH, Closer To Danger is available for preorder! U.S. and Canada.