Sexy Suspense
Coming in 2015
EXPOSED (Aspen Lake Series, Book 2)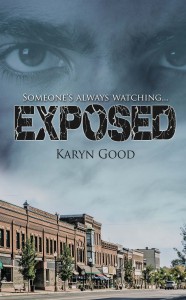 Kate Logan needs a safe haven. A place to start over after her modeling career disintegrates in scandal. But her hometown of Aspen Lake isn't the sanctuary she hoped. Her vow of a low-key life is disrupted by a break-in and other strange happenings at her boutique. As the chair of Aspen Lake's Gothic Revival Festival, she's also drawn the ire of a religious fanatic. Kate is up to her stilettos in drama and intrigue including one sexy carpenter who's determined to get in her way. 
New to town, Seth Stone is seeking inspiration and solitude to concentrate on his art. Short on funds, he agrees to take on a second job restoring the damage to Kate's Closet. Trouble erupts along with the desire to get to know Kate better. When he's used as a pawn in a smear campaign against his gorgeous boss Seth fights back. But now the whole town is watching. Including the man determined to further his own agenda. Time is running out with nowhere to hide.
I'm so excited to finally be sharing Kate and Seth's story, which I began writing in 2009 during National Novel Writing Month (NaNoWriMo). It was such a mess I put it away and let it stew for a couple of years. Now it's time to tell their story. This is the cover that gives face to it all. I love it. It captures the small town feeling of my fictional town, Aspen Lake. And those eyes! Perferct. Because more than one person is watching Kate's every move.
And here's another little something I wrote in 2009. A Christmas tale for the now defunct Prairie Chicks Write Romance blog. So, if you've already raed it – thanks. But if you haven't, here it is…
His Family
"Tell us the story, Daddy," pleaded Emma.
Ella chimed in, "Tell us. Tell us."
Stefan Dalakis glanced down at his four-year-old twin daughters. Each one had a strangle hold on a leg. He pretended to try and shake them loose.
"Daddy!" Little arms wrapped tighter around his legs as they giggled and shrieked.
"You don't want to hear that old story. It's Christmas Eve. A time for Christmas stories."
"No! The other story." Emma let go long enough to tug on his pant leg. "Please? Please?"
"With sugar on top?" Ella gave him her special look, the one calculated to break the most stubborn soul.