When it comes to creating a character's personal style it's not only fun but necessary to use imagery to emphasize personality. Style is a very visual representation of a character's personality. Just as a character's style can change to enhance the advancement of their character arc. Like us humans out in the real world, characters have their good days and their bad ones, often in extremes. How they dress or put themselves together can help reflect their state of mind.
Besides the obvious fact of characters having to wear clothes and having those clothes be appropriate to the story and setting, there is something to be learned from costume designers who provide that imagery in movies and on television. There are incredible examples of costuming in television right now and I have a couple of absolute favourites.
Did anyone else binge watch Bridgerton on Netflix as soon as possible? It's so lavish and decadent and the costuming is an incredible example of what it takes to build a swoon-worthy period drama for television. Lord have mercy, this show!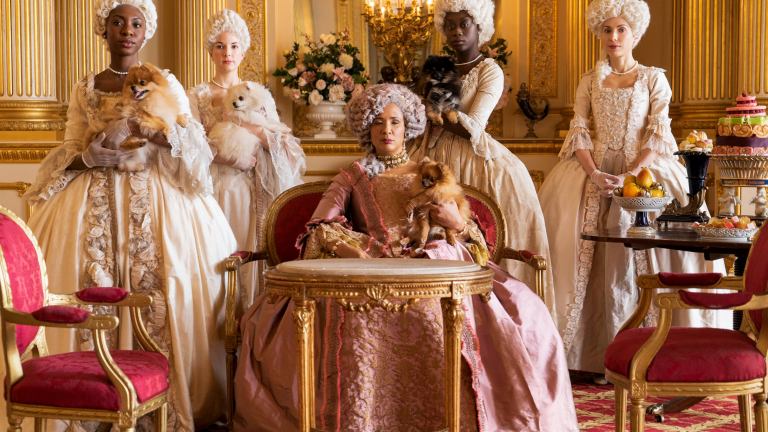 Bridgerton features approximately 7,500 costume pieces!
The Netflix series Bridgerton costume designer, Ellen Mirojnick, explained to Vogue that "each family and character tells a story through their clothes. Given the sheer number of people on camera, the Bridgerton costume department had to create elaborate outfits complete with headpieces and gloves. Quickly numbering in the thousands, the show had an entire warehouse dedicated to wardrobe and 238 people in the costume department." 
She also explained why we didn't see bonnets and the linen dresses authentic to the time period and why the costumes are a contemporary nod to the regency era. I love the fresh approach, the diversity, and the entertaining and witty nod to women in positions of power in an era that worked hard to restrict the advancement of women.
My second favourite is The Marvelous Mrs. Maisel. When is the next season of The Marvelous Mrs. Maisel coming? We need you Midge!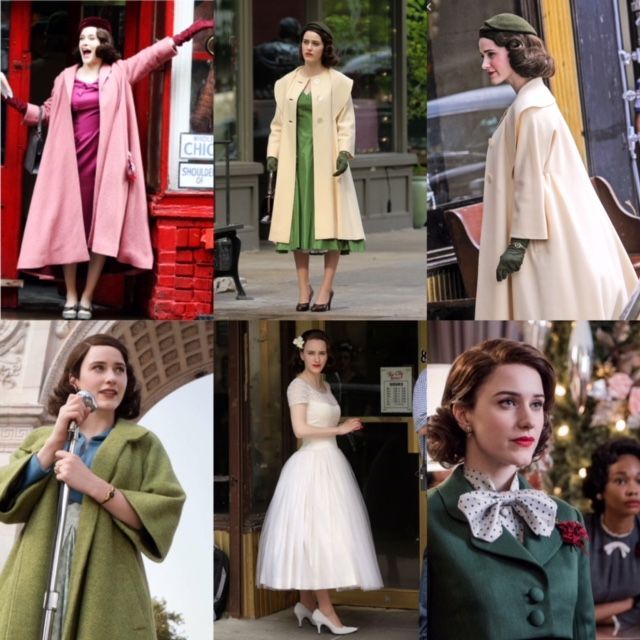 It's funny, it's profane, the clothes in this show. Are. The. Best. And how can we not love Midge as she pursues her passion in spite of overwhelming odds.
"Why do women have to pretend to be something that they're not? Why do we have to pretend to be stupid when we're not stupid? Why do we have to pretend to be helpless when we're not helpless? Why do we have to pretend to be sorry when we have nothing to be sorry about? Why do we have to pretend we're not hungry when we're hungry?" – Midge Maisel
Donna Zakowska, costumer designer for The Marvelous Mrs. Masiel who's stunning way with colour says, "These sort of elements really assert the character's personality. In a way, Midge is a character that never gives in, even if something terrible is going on. It's always about putting your best foot forward and an optimism that runs in the character."
I love Midge's undaunted spirit and her need to speak her mind, to be heard, and stubborn when confronted with a world that means to keep her inside the box it designated for her. And her clothes tell that story. The colour she wears as she goes about her daily life and the black dresses and pearls she wears on stage when she performs her stream of consciousness comedy act. It is, indeed, marvelous.
The following quote is taken from The Secret Lives of Costumes. It's a great look into the world of costume design.
"I take my cues from the characters and their surroundings as written in the play, as well as from the stylistic choices of the production. In the same way that an actor builds upon the framework of traits and actions of his or her character in the story, I read what the character does and says for clues about what they might wear. I also need to think about how best to reflect a character's evolution through the development of the story. Sometimes the character is best served by creating contrast between how a character behaves and what he or she looks like." Judith Bowden, Canadian Designer
It's something to think about when creating characters and that it can be much more than adding in interesting bits and quirks. We need to think about style in terms of character development. We all know Eliza Doolittle undergoes a transformation in My Fair Lady. Usually a character's evolution is not that obvious in terms of wardrobe. Nor is usually as lavish as in Bridgerton or as bold as in The Marvelous Mrs. Maisel. But using subtle changes can make an impact, too.
Do you love a certain TV character's style? Have a favorite costume from a movie? Use wardrobe changes as a tool in your own writing?