Welcome to Week 1 of My Four Weeks of Holiday Giveaways!
Thank you to those who entered!
The Winner Is – Brea!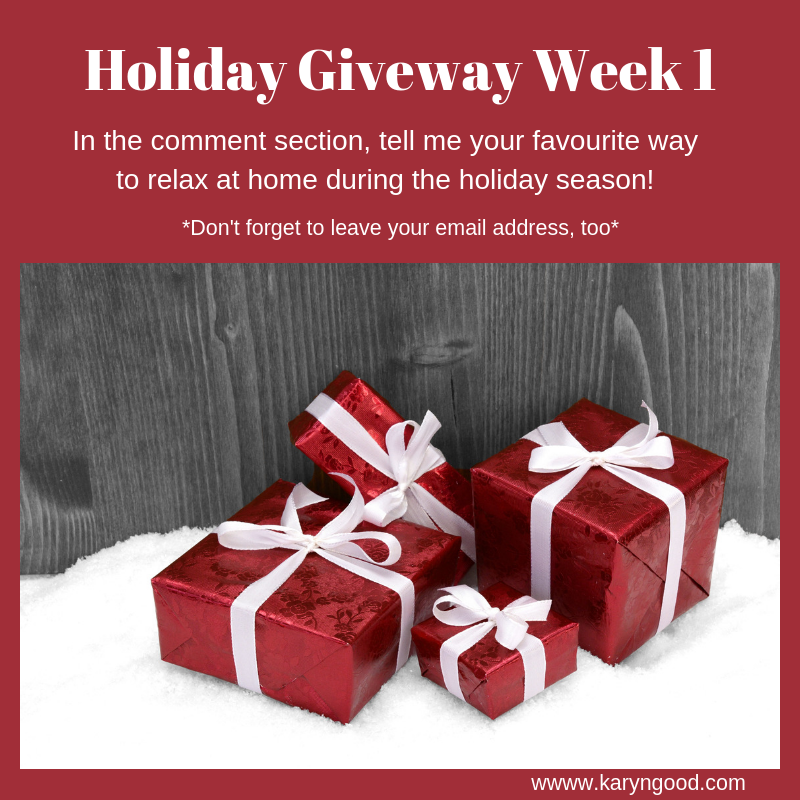 It's already very Christmasy out there! And busy! If you're like me, you don't relish venturing out to malls and such. I love giving gifts! I don't want to sound all grinchy! But I would be less than honest if I said I enjoyed shopping, especially this time of year. This time of year generally has me feeling anxious, overwhelmed, and overthinking.
Some suggestions for de-stressing!
Take a sniff of citrus! Apparently, smelling a lemon boosts feelings of well-being.
Experiment! Ditch some old traditions and adopt new ones. You don't have to do the same thing every year.
Spend less time on social media! Theodore Roosevelt is right – Comparison is the thief of joy.
More sex! Orgasms increase endorphins.
Just say no! It's okay to say no to holiday parties by saying you already have plans. Staying in with a book and a cup of tea is a plan, after all.
In the comment section below, tell me your favourite way to relax at home during the holiday season for a chance to win a prize pack containing a candle, a calendar, and chocolates! All very Canadian, especially the calendar with its adorable pictures of Vancouver City Police Dogs, which also supports a couple of great causes.
*Don't forget to leave your email address so I know how to contact you if you win.*
Until then…
Or until next week! Good luck!