Just back from a trip to Toronto, Canada to see my sister and the Adorables. I've not spent much time in Toronto and I can honestly say it was a marvelous place to visit. Especially the Riverdale area where they live. Artsy, trendy, and culturally diverse. And the people I met were so friendly and welcoming. It was wonderful to have a break and spend some time filling the creative well which felt much depleted.
Let's face it, we all need to regroup sometimes. We need to do the things that foster the creative process and ignite the fire that fuels productivity.
Some highlights and ways I refilled my well.
Trip to the Art Galley of Ontario! My sister is an artist. I'm a writer. We're creative people. I LOVED it! It was impossible to not be inspired.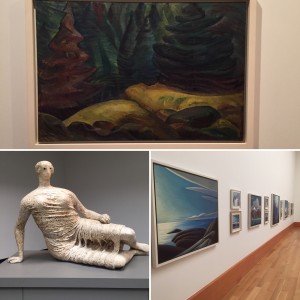 Because, oh my gosh, Emily Carr. Her modern style was ill-received at the beginning of the 19th century but she went on to become a Canadian icon and a leading modernist known for capturing the spirit of Canada, particularly the Pacific Northwest Coast. A sculpture by Henry Moore. It's huge! The vision required to complete a project like this always amazes me. I was also amazed by Lawren S. Harris, a founding member of the the Group of Seven. Who was also a mentor to Emily Carr. Very austere and lacking in detail, his landscapes just pull you in and make you wonder.
The Royal Ontario Museum. This is a favourite of my nephews. Of course, we had to go. We only managed to see a fraction of the place. It's immense. Which means I'll have to go back and see more of it!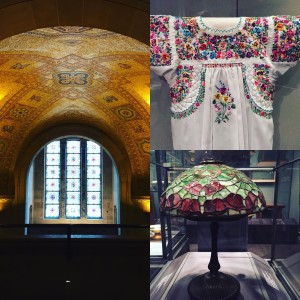 The Rotunda! Magnificent and part of the Stair of Wonders. Which we went past on the way to Earth's Treasures. A favourite of my nephews! Every rock, gem, and mineral known to humanity. A collection guaranteed to fascinate anyone. The ROM is currently showcasing a beautiful and vibrant Mexican textiles exhibit. The blouse (not the proper name, my apologies) was embroidered by an award-winning artist, who's name I didn't write down, but the the flawless detail is exordinary. I can only imagine the length of time required to create such a piece. And finally a Tiffany lamp, which is about as close to a Tiffany anything as I'm likely to get, found in the Evolution of Style section.
That's only a couple of the things that helped me feel inspired. There were many, not the least of which was spending time with a most adored sister and my nephews!
What inspires you? How do you refill the creative well?