Welcome Debra! It's wonderful to have you hear talking about Thanksgiving and sharing a wonderful recipe from your upcoming holiday release, An Unexpected Blessing.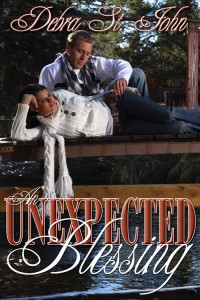 While I was growing up, we always hosted Thanksgiving at our house. I think that's why it's my favorite holiday. There's nothing better than waking up to the smell of succulent turkey in the oven.
One of the best parts of getting ready was setting the table. Usually we had a crowd of at least twenty, so that meant putting all of the leaves in the dining room table, plus adding additional tables at the end. The little card table at the way end was always the "kids' table". Eventually each of the older cousins made it to the "big people" table. Until they had kids of their own and wound up right back at the end. All told the extended table stretched out of the dining room, through the archway, and into the living room. Chairs were gathered from all over the house: dining, kitchen, folding, and sometimes even patio. Fancy white linen table cloths (freshly ironed) gave everything a uniform look.
I still remember how exciting it was to get out the cozies with Mom's good china. Each plate was carefully removed from the stack and placed in precisely the right spot on the table. Serving dishes went in the middle, waiting to be filled with creamy mashed potatoes, sweet corn, gravy, and homemade stuffing. Next came the good silverware. Each utensil had its own stack in the padded compartment of the brown chest. Place cards were the final touch so everyone knew where to sit.
Just as exciting was waiting by the window waiting for all of the grandmas, aunts, uncles, and cousins to arrive. A flurry of hugs and kisses greeted each new arrival. While the relatives enjoyed appetizers, snacks, and drinks in the family room, Mom, my sister, and I (and usually a grandma or an aunt or two) put the final touches on the meal in the kitchen. Eating the 'schnibbles' as the turkey was carved was the best part. We'd load up the table with the enticing dishes, and then finally announce that dinner was ready. Everyone scurried to find their spots. After plates were filled and the prayer recited, we dug in. Chatter and laughter provided the backdrop as oodles of food was consumed, until one of the uncles would toss down his napkin and say, "I'm so full I can't eat another bite." Groans of agreement always echoed the sentiment.
And then we served dessert. And of course everyone ate it.
Those days are long gone. Not only are the cousins all grown, but their kids are all grown too. The grandmas have passed. Mom and Dad are snowbirds and spend the holiday in Florida. But the memories will live on forever in our hearts. This year my hubby and I are hosting Thanksgiving at our house for the first time. It will be a small affair. Just us, our sisters, and his parents. But I can't wait.
So of course it wasn't a huge stretch at all to write a story focusing on Thanksgiving. An Unexpected Blessing is coming November 21 and incorporates all the best things about the day.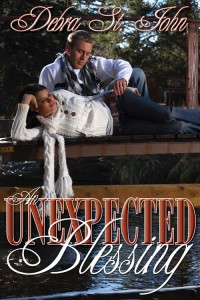 Single Mom Katy Roth thinks life can't get any worse. In the past six months she's been let go at work, had to move back home with her parents, and found out her ex is cutting his child support payment. As Thanksgiving approaches, she finds little to be thankful for in a life that is quickly spinning out of control.
Joe Mason is the town's bad boy. Literally. He's just returned from a four year stint in prison. He wants nothing more than to put the past behind him and get on with his life. He's had a secret crush on Katy since grade school, but when Katy's parents hire him to be their handyman, she's less than thrilled to have him around.
But soon, through her young son's eyes, Katy discovers the good in Joe. As their feelings for one another deepen, small town gossip and prejudice threaten to ruin everything. Will Joe's past come between them, or will they be able to get beyond it and hold onto a love neither expected?
And a recipe from the book:
Kyle's Favorite Pumpkin Cookies
Ingredients:
1 c brown sugar
1 c cooked or canned pumpkin
½ c oil
1 t vanilla
2 c flour
1 t baking soda
1 t baking powder
½ t salt
½ t cinnamon
½ t nutmeg
½ t ginger
1½ – 2 c chocolate chips*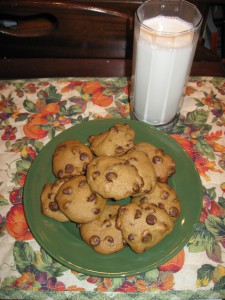 Directions:
Beat sugar, pumpkin, oil, and vanilla. Sift together remaining dry ingredients. Add to pumpkin mix and stir until smooth. Add chocolate chips. Drop by spoonfuls on greased baking sheet. Bake at 350 for 12-15 minutes.
*Can substitute raisins and/or chopped nuts if preferred.
Bio: Debra St.John writes spicy romance with sexy heroes and spunky heroines for The Wild Rose Press. An Unexpected Blessing is her fifth release. Although she's a country girl at heart, she lives in a suburb of Chicago with her husband, who is her real life hero. You can find her at www.debrastjohnromance.com or blogging at http://acmeauthorslink.blogspot.com, http://heroineswithhearts.blogspot.com, or www.authorsbymoonlight.com.
Thanks so much for guest blogging today, Debra. I'm more than willing to read a book that combines romance and recipes! What's the largest gathering you've hosted? Feel free to share a Thanksgiving tale.