I remember trips to the library to pick out books with my kids. Me pulling them along in our wagon. Loading up on books and coming home to read. Cuddling up and turning the pages. Maybe we'd read the story before, or maybe it was a new to us story. Those times are among my fondest memories. I still remember their favourites: Something Out Of Nothing by Phoebe Gilman, Have You Seen Birds by Barbara Reid, Arthur books, Franklin books, Berenstain Bears books. Matthew and The Midnight Pirates by Allen Morgan and Michael Martchenko. Okay, maybe that was one of my favourites. And every time I read Love You Forever by Robert Munsch I tried not to cry.
"Goodnight stars,
Goodnight air,
Goodnight noises everywhere."
Goodnight Moon by Margaret Wise Brown
I remember going to the library with my mom, who is also an avid reader. Our small town had a cozy little library but it seemed huge to me. And full of possibilities. I'm so very glad she introduced me to the idea of a room filled with books for the borrowing. Thank you, Mom!
Another memory. We lived in a farmhouse on a mixed cattle/grain operation. In the winter, we kids often ended up downstairs playing games or watching television. My mom stayed upstairs. You could usually find her sitting over a heat register on the floor reading a book. That was her escape time. Because we moms need those.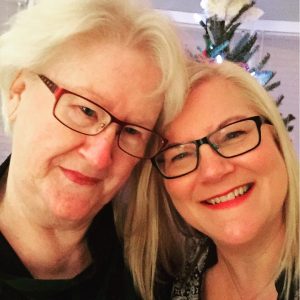 My sister takes the Adorables to the library. And when she comes to visit it's one of the first places my mom takes her. Bedtime means story time or reading time depending on the age and ability of the child. I hope that's one of things my kids will remember when they get older. All those trips to library. All the books. The words. The pictures. The love that went into reading them. The time spent.
Some of you might enjoy this article: The Simple Practices to Nurture the Motivation to Read. Whether you're reading to your kids, your siblings' kids, the neighbour kids or your grandkids. Maybe you volunteer at a shelter, a community centre, or a library.
Book Recommendation
I'm wrapping up reading All The Light We Cannot See by Anthony Doerr, which is our May book club pick. And what a fantastic read it is! If you find yourself in need of some respite, this is the book for you! An engaging delight for the senses in the form of a captivating story with intriguing characters.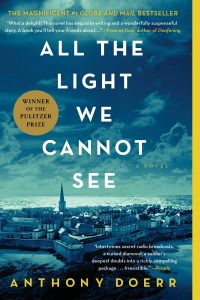 Marie Laure lives with her father in Paris within walking distance of the Museum of Natural History where he works as the master of the locks. When she is six, she goes blind, and her father builds her a model of their neighborhood, every house, every manhole, so she can memorize it with her fingers and navigate the real streets with her feet and cane. When the Germans occupy Paris in June of 1940, father and daughter flee to Saint-Malo on the Brittany coast, where Marie-Laure's agoraphobic great uncle lives in a tall, narrow house by the sea wall.
In another world in Germany, an orphan boy, Werner, grows up with his younger sister, Jutta, both enchanted by a crude radio Werner finds. He becomes a master at building and fixing radios, a talent that wins him a place at an elite and brutal military academy and, ultimately, makes him a highly specialized tracker of the Resistance. Werner travels through the heart of Hitler Youth to the far-flung outskirts of Russia, and finally into Saint-Malo, where his path converges with Marie-Laure's.
There are many things about this novel that are wonderful. That make reading it an experience to be savoured. One of the small things that I took away from it is the importance of creativity. Of books, of music, of art. And how those things can soothe, even for a moment, a tortured soul.
Happy Mother's Day on Sunday. What's a treasured book memory of yours?