"More than any inheritance, more than any sacred item, more than any title, the legacy he left behind is this: as one that day in the sundance circle when he lifted me from the depths, he taught us that during our time on earth we ought to love one another, and that when our hearts are broken, we ought to work hard to make them whole again.
This is at the centre of sacred ceremonies practised by Indigenous people. This is what so many of us seek, no matter where we begin life.
This is the reason you walk."
The Reason You Walk by Wab Kinew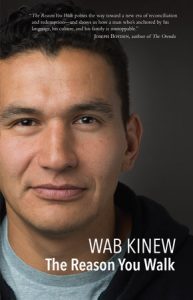 I've spent considerable mental energy the past couple of weeks trying to figure out how to deal with the fact that's I'm white. That's very strange thing for me to type out – I'm a white woman. When I think of all the words I would use to describe myself 'white' wouldn't even hit the top ten. Quite possibly not the top twenty. I'm not sure it would occur to me at all.
I guess that's a case in point for white privilege.
"an invisible package of unearned assets"   Peggy McIntosh
There has been considerable talk, especially in light of Black Lives Matter, asking others to listen to what needs to be said, no matter how hard it is to hear it. It reminds me of the time my son travelled to El Salvador in high school on what was essentially a mission trip. Not to build home or schools, but to spend time with the people of El Salvador in their homes to hear their stories of their country's violent civil war and the impact it had on their lives.
Hard, harsh, cruel stories of death, loss, and violation from people who wanted their stories told and heard to than be retold and heard again by people who knew nothing of that kind of violence. Stories that were incredibly moving and very hard to read. That process also involved decompressing at the end of each day, because that kind of intense listening needs an outlet.
We cannot simply listen and listen and listen some more and at the end of the day be silent too.  But first we must hear what others have to say.
Or read what they have to say. Hence my book choice and reference to the quote above. I've wanted to read this book for a while now and finally picked it up as one of my summer reads. Then I thought maybe I'd wait for the fall to read it in favour of a more 'beachy' type read. The kind of books I write! Then people died. And more people died. And the call to action was listening to what people of colour have to say about systemic racism, inequality, and ignorance .
Reading The Reason You Walk by Wab Kinew is my response to that call to action. To read a book by a First Nations politician, broadcaster, musician and activist, who's also an Honourary Witness for the Truth and Reconciliation Commission of Canada. I will read his words.
Because we need to do more of what my son did in El Salvador right here at home. We need to listen, absorb the words, without prejudice. Without defence. Or defiance. The words of the people of this country who have stories of oppression, reconciliation and redemption to tell. Because we do better when we know better. But first we must listen. Read. Or both.