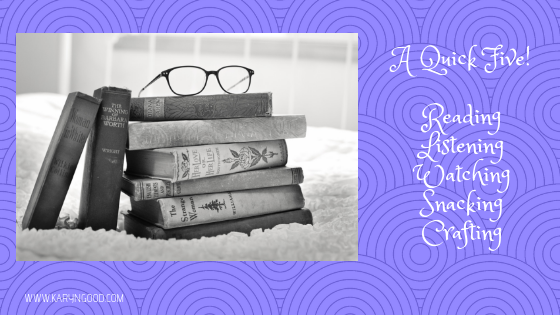 Time is flying right now! I've gotten the edits back on GONE, Book 3 in my Aspen Lake Series. And on another writing front, research is occupying my time. I've found a setting I'm excited about and am having loads of fun taking notes and such. Might even go for a Sunday drive this weekend and do a little location scouting in the Bid Muddy Valley area.
But a person needs downtime! And since, by design, I lead a fairly simple life that often involves books, television, crafts, and snacks.
My Monthly Quick Five:
Reading: Jar of Hearts by Jennifer Hillier, author of psychological thrillers Omgosh, it's soooo good! I'm whipping through this one. Definitely recommend.
Listening: Right now, it's an audiobook – David and Goliath: Underdogs, Misfits and The Art Of Battling Giants by Malcolm Gladwell. Just getting into this one. Gladwell is doing a great job of narrating and I'm enjoying listening to a non-fiction book.
Watching: Who else is addicted to all the cozy mystery movies? They're like chips! Bet you can't just watch one. Right now my fav is the Garage Sale Mystery movie series. Love it!
Snacking: Almond Butter Energy Bites from the cookbook Yum and Yummier, another book I highly recommend. Useful, practical, and healthy recipes.
Crafting: Currently I'm all about the bullet journaling and I'm using it to get back into some semblance of routine. Also, i'm addicted. Also not sure this really counts as crafting…
Until next time…
How is everyone spending their chilly it-feels-like autumn evenings?