It just so happens that Wednesday was #IReadCanadianDay. So, I'm extra happy to talk about Rachel Reid's Time to Shine. Rachel Reid is one of my favourite authors and she hails from the lovely province of Nova Scotia.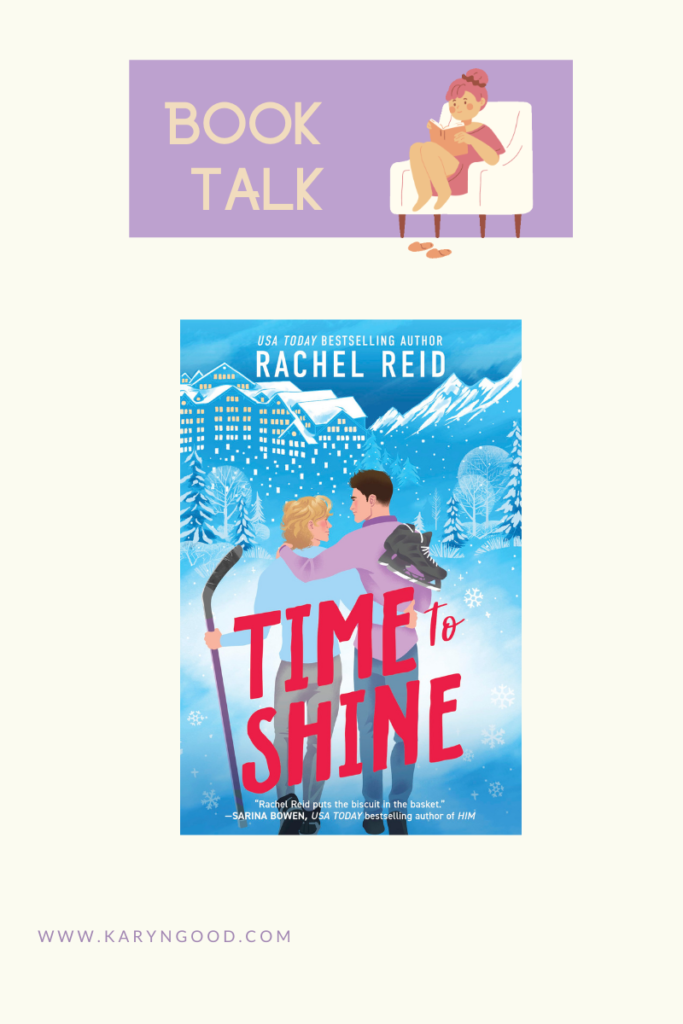 Published: Carina Press, September 26, 2023
Categories: Contemporary Romance / Christmas Romance / Bisexual Romance / Canadian Setting /
Blurb:
For Landon Stackhouse, being called up from the Calgary farm team is exciting and terrifying, even if, as the backup goalie, he rarely leaves the bench. A quiet loner by nature, Landon knows he gives off strong "don't talk to me" vibes. The only player who doesn't seem to notice is Calgary's superstar young winger, Casey Hicks.
Casey treats Landon like an old friend, even though they've only interacted briefly in the past. He's endlessly charming and completely laid-back in a way that Landon absolutely can't relate to. They couldn't have less in common, but Landon needs a place to live that's not a hotel room and Casey has just bought a massive house—and hates being alone.
As roommates, Casey refuses to be defeated by Landon's one-word answers. As friends, Landon comes to notice a few things about Casey, like his wide, easy smile and sparkling green-blue eyes. Spending the holidays together only intensifies their bromance-turned-romance. But as the new year approaches, the countdown to the end of Landon's time in Calgary is on.
Thoughts:
I love Rachel Reid's Game Changers m/m hockey romance series! Even though I'm not much into the sports. Her two books featuring Shane and Ilya will find a place on my favourite couples' list for the rest of time. But the rest of the books in the series are excellent, too.
Time to Shine is not part of the Game Changers series but does feature hockey players. It also takes place over Christmas and there are some Christmas vibes but it's not the main focus of the story. It's also sweeter than her Game Changer Books which are spicy. So, so spicy!
Landon and Casey are perfect for each other in an opposites attract kind of way. Casey is laidback goof with no filter and Landon is quiet and intense. Casey is a forward for the Calgary Outlaws (a fictional NHL type team). Landon plays goalie for the Outlaw's farm team. Landon gets called up to play for the Outlaws when the backup goalie gets hurt. They become roommates.
But playing professional hockey isn't the only thing these two are managing. Landon is still grieving the loss of a close family member, as well as battling anxiety. Casey is terrified of the dark and being alone in his giant house. They become friends. Each helping the other navigate family and their mental health challenges. Then they become more as they figure out how to be apart when the backup goalie returns and Landon goes back to Saskatoon.
It's got such sweet vibe. It's about finding your place and finding your people and being accepted for who you are, quirks and all. Definitely recommend.
Until next time…
Let me know some of your favourite Canadian authors!