Sundays seem like a good time to talk about the books I've read! I don't give ratings, or stars, or gold crowns. Just offering a few of my thoughts. This week I'm talking about Ayesha At Last by Uzma Jalaluddin.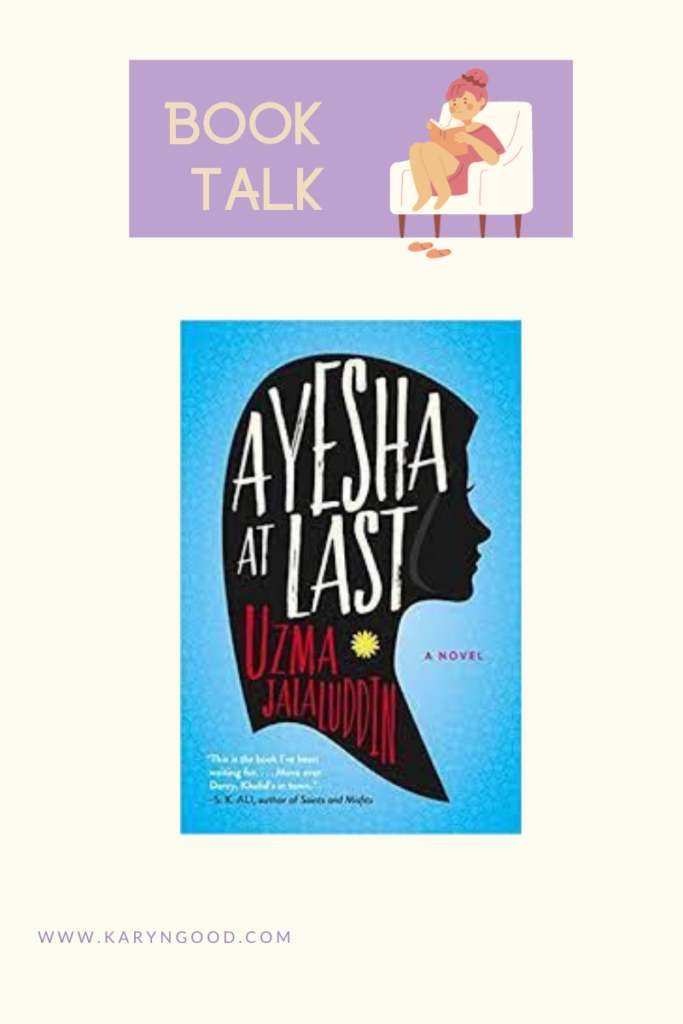 Ayesha At Last by Uzma Jalaluddin
Published: Harper Collins Canada, June 2018
Length: 352 pages
Categories: Fiction / Romance / Humour / Contemporary / RomCom / Canadian Setting
Blurb:
Pride and Prejudice with a modern twist
AYESHA SHAMSI has a lot going on. Her dreams of being a poet have been set aside for a teaching job so she can pay off her debts to her wealthy uncle. She lives with her boisterous Muslim family and is always being reminded that her flighty younger cousin, Hafsa, is close to rejecting her one hundredth marriage proposal. Though Ayesha is lonely, she doesn't want an arranged marriage. Then she meets Khalid who is just as smart and handsome as he is conservative and judgmental. She is irritatingly attracted to someone who looks down on her choices and dresses like he belongs in the seventh century.
When a surprise engagement between Khalid and Hafsa is announced, Ayesha is torn between how she feels about the straightforward Khalid and his family; and the truth she realizes about herself. But Khalid is also wrestling with what he believes and what he wants. And he just can't get this beautiful, outspoken woman out of his mind.
My Thoughts:
Ayesha Shamsi has no time for a relationship, and even less interest in an arranged marriage. She's busy adulting, putting aside her passion, and accepting a job that will allow her to repay her uncle and aunt for the financial and emotional support her family received since immigrating to Canada. Her younger cousin is on a different path. One slightly more self-absorbed and flightier. Ayesha is enlisted to encourage Hafsa to make a success of her latest career adventure. Hafsa is busy collecting marriage proposals. Enter ultra conservative Khalid, who becomes engaged to Hafsa, sort of…
I loved everything about this modern Pride and Prejudice retelling set in a Muslim community in Toronto. It's full of interesting and complex characters who bring the setting to life. The main characters, Ayesha and Khalid have very differing views on arranged marriages and I wondered how the author would bring these two together. I knew very little of how arranged marriages look in contemporary times. But the book is full of relationships, both past and present, that give insight into all the different ways people find each other.
I felt an immediate connection to Ayesha, much like I did with Elizabeth Bennett. And Khalid was a challenge at the beginning, much like Mr. Darcy. So, it shouldn't be surprising to say Khalid turned out to be one of my favourite romance heroes. But before that happened, I had to work through some perceived misconceptions of how I thought arranged marriages work and what the power dynamic looks like within an arranged marriage.
This book is full of humour and witty, charming dialogue. The plot is perfect. The writing is rich and generous and the author managed to make me laugh while also tugging on my heartstrings. Highly recommend!
I can't wait to read Uzma Jalaluddin's new book, Hana Khan Carries On available now.
Until next time…
What's everyone else reading? Anyone have another Pride and Prejudice retelling recommendation?