Back in the middle of June I was tagged by the wonderful and talented author Monica Enderle Pierceto take part in the Lucky 7 meme. In the mood for some romantic dystopian/sci-fi? Check out her novel that releases this July, Girl Under Glass.
Here are the oh-so simple rules:
Go to page 7 or 77 in your current manuscript
Go to line 7
Copy down the next seven lines/sentences exactly as they are
Tag 7 other authors
So here are 7 lines from page 77 of my romantic suspense, Backlash.
Mike continued on, "If you could provide us with a list of friends and places to look that would be great."
Mike laid a paper and pen down on the cold metal table and pulled out a chair for Lily. Lily sank into it. Mike claimed the one next to her. Chase gritted his teeth as he made his way to the opposite side of the table. 
Jason, Lily's student, is missing. Constable Mike Davenport, Chase's partner, has called Lily into the station to assist them.
The authors I'm tagging are all talented and engaging writers, some I know in person and some I've met online. A bouquet of authors all worth reading.
So, tag! Your it!
In Other News:
Recently my husband and son went on a bike tour of Holland and I couldn't resist sending a long a little piece of me with them. I hope Chase and Lily enjoyed their tour and I hope someone finds their story in the Amsterdam airport and decides to read it. Perhaps they'll pass it on and Chase and Lily will continue their travels.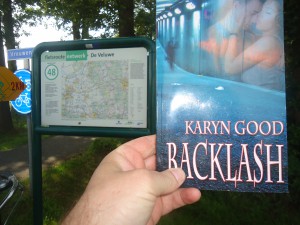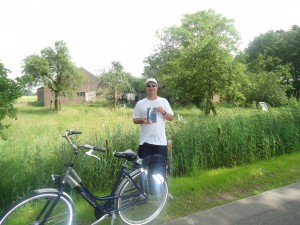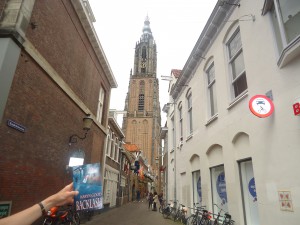 Travelling anywhere interesting this summer?