I'm so happy to be able to tell you about my friend, Jana Richards' newest releases. Her Love at Solace Lake Series is available this month. All. Three. Books! Can you believe it? No waiting months to see how the story ends. Part of me is very unhappy with you, Jana! It takes commitment and organization to be able to deliver three books in one month. Lies and Solace, Book One was available March 14. Secrets and Solace, Book Two is available today. The final instalment of the trilogy, Truth and Solace, is available for pre-order and will be delivered to your ereader on March 28.


Love is worth the risk…
When their grandfather dies, the Lindquist sisters, Harper, Scarlet and Maggie, inherit the northern Minnesota fishing lodge that had been in their family for three generations. The inheritance is bittersweet. They were raised at the lodge by their grandparents. The natural beauty of the place hasn't changed, but the building itself is crumbling and desperately in need of repair. The lodge also reminds them of what they lost. Twenty-two years previously, their parents died there in what was ruled a murder/suicide.
As the sisters struggle to breathe new life into the failing lodge, old fears and questions rise to the surface even as new love presents itself. Why did their father murder their mother? What truths did their grandparents keep from them? The sisters must fight to keep the wounds of the past from putting their futures, and their fledgling relationships, in jeopardy.
Five Things you need to know about Solace Lake
It's based on a real place in Minnesota. Sort of. North-central Minnesota is a lovely place with lots of trees and beautiful lakes. My husband and I have golfed in the area a couple of times, and we stayed at a very nice golf resort. I used that resort as the model for Miller's Golf Resort, the neighbour to the Solace Lake Lodge, and the place of employment for Harper, the heroine of book 1, LIES AND SOLACE. However, Solace Lake and the fishing lodge that Harper is trying to save are entirely products of my imagination.
A murder/suicide took place in Solace Lake. Twenty-two years before book one begins, the Lindquist sister's parents died in the lake in what the police called a murder/suicide. The sisters, then aged ten, eight and sixteen months, were raised by their maternal grandparents at the fishing lodge.
Their parents' deaths leave scars on each of the sisters. Harper is left with feelings of abandonment. Scarlet feels guilty, somehow responsible for their deaths. Maggie never knew her parents. Everything she knows about them came from someone else's remembrances. She feels cheated.
The Hainstock brothers come from a dysfunctional family. Their father was an alcoholic and their mother an enabler. Their childhoods were chaotic, and both of them, especially Cameron, have vowed that they won't do that to their own children.
Luke and Maggie have a history – They first fell in love when Maggie was fourteen and Luke eighteen. But too many years, and too many secrets have put a wedge between them that's going to be difficult to overcome.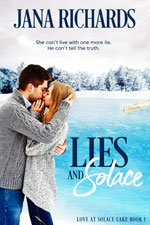 She can't live with one more lie. He can't tell the truth.
Harper Lindquist is convinced she's found the answer to her financial prayers. Unless she pours cash into crumbling Solace Lake Lodge, she'll lose her family's legacy. Her would-be savior arrives in the middle of a Minnesota blizzard and she's determined to prove to her reluctant, and trapped, financier the lodge is a sound investment. But Harper isn't completely honest with him. And she has no idea the lake is hiding secrets of its own.
Ethan James is a liar, but his money is very real. He isn't convinced a broken-down inn is a smart investment opportunity. But the more he understands Harper's dreams and desires, the more he wants to be the man to make them come true. The trauma in both their pasts means neither can fully trust the other. They must find the courage to love, to trust, and to accept, or yesterday's sorrows will keep them apart.
US: https://www.amazon.com/dp/B079TDDSY4
UK:https://www.amazon.co.uk/dp/B079TDDSY4
CA: https://www.amazon.ca/dp/B079TDDSY4
AU: https://www.amazon.com.au/dp/B079TDDSY4
No matter how deeply buried, secrets rise to the surface.
Scarlett Lindquist has agreed to help her sisters rebuild the dilapidated fishing lodge in Minnesota they inherited from their grandparents. Although the lengthy restoration is bringing the three sisters closer together, Scarlett's support is temporary. Her leave of absence from her job in Chicago is temporary and she has no intention of staying at Solace Lake Lodge, where the lake holds dark secrets. When frightening childhood memories resurface, they are tempered by her fascination with an irritating contractor. If only she could trust her feelings for him. If only he could trust her.
Cameron Hainstock meets Scarlett at his brother's wedding to her sister and their attraction is instantaneous. But Cam avoids the beautiful marketing executive. All his efforts are aimed at battling for custody of his only child. When the unimaginable happens and Cam faces the biggest challenge of his life, he's reluctant to accept help to halt his downward spiral. Can they learn to trust each other and fight for a future together or will they go their separate ways?
US: http://www.amzn.com/B079WGSNWD
UK: https://www.amazon.co.uk/dp/B079WGSNWD
CA: https://www.amazon.co.uk/dp/B079WGSNWD
AU: https://www.amazon.com.au/dp/B079WGSNWD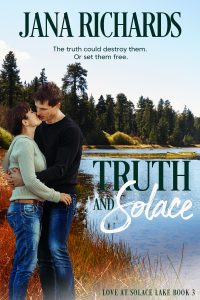 The truth could destroy them. Or set them free.
Maggie Lindquist left Solace Lake determined never to return. Circumstances have pulled her back and she's helping to restore her family's dilapidated fishing lodge. When she agreed to the plan she didn't expect to have to work side by side with the man who abandoned her ten years earlier. She didn't expect to like him, or want him ever again. But can she trust him as she once did?
Luke Carlsson rushes home to tend to his ailing mother. Her lengthy illness means he needs to stay, at least temporarily. And to stay, he needs to work. Solace Lake Lodge offers him a job and an opportunity to work with the woman he's never stopped loving. But the restoration is unleashing secrets hidden for decades and no one is left unscathed. Especially not Maggie and Luke, whose love needs to be resilient enough to forgive, and strong enough to build a future together.
US: http://www.amzn.com/B079WFZXV2
UK: https://www.amazon.co.uk/dp/B079WFZXV2
CA: https://www.amazon.ca/dp/B079WFZXV2
Au: http://www.amazon.com.au/dp/B079WFZXV2
Congratulations again, Jana! Book One is next up on my ereader! I can't wait to learn more about the Lindquist sisters and Solace Lake!
Dear Reader, do you love romances set in remote communities? Small Towns? or Resorts? I know I do!