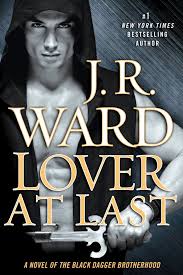 Okay. One more post and then I`m gone for a week.
So.
Lover At Last by J.R. Ward.
Qhuinn and Blay.
At last.
(Only for them would I pay $16 for an ebook.)
And a whole lot of other characters.
Whew, was this book full of characters. It was getting a little crowded by the end. But I was okay with that, strangely enough. Mostly because it meant there was less about the Lessers. The Omega is probably my least favorite villain. Like ever. I skim those parts. But some interesting characters were introduced. More Xcor. Who intrigues me. She has me wondering how she's going to make this Xcor and Layla thing work. And Assail. Who also intrigues me. Sola has potential. The others? Not so much. Why? Because it's all about the Brothers for me.
Obviously.
Because meaty female roles are thin to the ground in this series.
So why do I read it? Because J.R. Ward is a great storyteller! This community of brothers would die for each other, true. She draws you into their world. Because of characters like Zsadist, my favorite brother. And things like Wrath's speech to the Glymera. The dialogue. Xhex. Because she gave Qhuinn and Blay their own story. J.R. Ward didn`t disappoint. They're together. As they should be. Hopefully because this is mainstream romantic fiction, it will bring us one step closer to the day it won't be a big deal that they're a same sex couple. It will just be.