It's Friday and you're asking yourself: "What should I read this weekend?" If you like small town, contemporary romance, then I've have just the book for you! And if, like me, second chance romances are you're absolute favourite, then this is the book for you! If you like tales of forbidden love, family conflict, and babies, then same! Bonus – you get a chance to enter Jana's giveaway!
Five Things You Need to Know About the Masonville Series
This small-town series is set in the fictional town of Masonville, North Dakota. I've given the town a population of 6,000 because I once lived in a town of that size. It's big enough to have a lot of services, like a hospital and vet clinic, but small enough that everyone knows your business!
In each of the books, the characters have a past trauma or unhappiness they must work through before they can be whole again. And before they can accept love into their lives.
Right now I have four books planned for the series. Several of heroes and/or heroines in each book work in the town's veterinary clinic. Two of the heroines and one hero are brother and sisters from the Saunders family.
This is the fourth romance series I've written. I think I'm getting the hang of this thing! Each book in the series will be a stand-alone story, but as with every series, I think the reading experience is enhanced when read in order.
I am currently at work on book 2 of the series, Garrett and Blair's story. Garrett is Lauren's brother, the heroine from CHILD OF MINE, book 1, and Blair works at the vet clinic with Cole, the hero from book 1. See? It all fits together!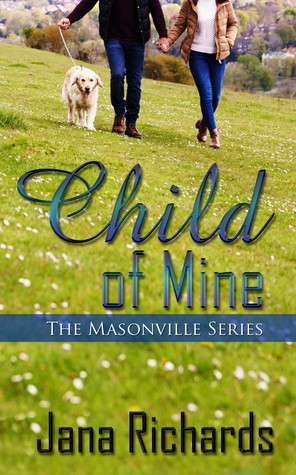 Lauren didn't intend to sleep with her brother-in-law Cole on the day of her husband's funeral. But now that she is pregnant, she's not sorry. Cole's given her a baby, a long-wished-for miracle. He's been her friend forever, though she never told him or anyone else how unhappy her marriage to his cheating brother was. And she's afraid to tell the small town that considered her husband a hero that the baby isn't his.
Cole's been in love with Lauren since he was sixteen. It kills him that everyone believes the baby is his dead brother's. All he wants is to claim the baby, and Lauren, as his own. Though she marries him, will Lauren's heart ever be his?
Lauren must tell the truth or risk losing Cole. Is her newly-discovered love for him greater than her fear of scandal in her hometown?

You can find Jana Richards on Goodreads! Twitter! Facebook! Bookbub!
a Rafflecopter giveaway
I also have a giveaway happening, so if you want another chance at a $25 Amazon gift card visit HERE!
Until next time…
What's you're plan for the weekend?