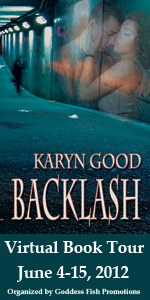 It's Wednesday and Day 8 of my virtual book tour for my romantic suspense, Backlash. Once again I'm in two places sharing information!
Cathie Dunn – My Top Ten Writing Romantic Suspense Tips
It's Raining Books – Five Things You Might Not Know About Me
Stop in and share your thoughts and be entered to win a $25 GC to Amazon!
What he's sworn to protect, she's willing to sacrifice to save those she loves…
Backlash is available from: The Wild Rose Press ,  Amazon – Print ,  Amazon – Ebook ,  Barnes and Noble ,  Bookstrand ,  All Romance Ebooks