Holiday Winner Week Three is…
******** Annette ********
A Chance to Win!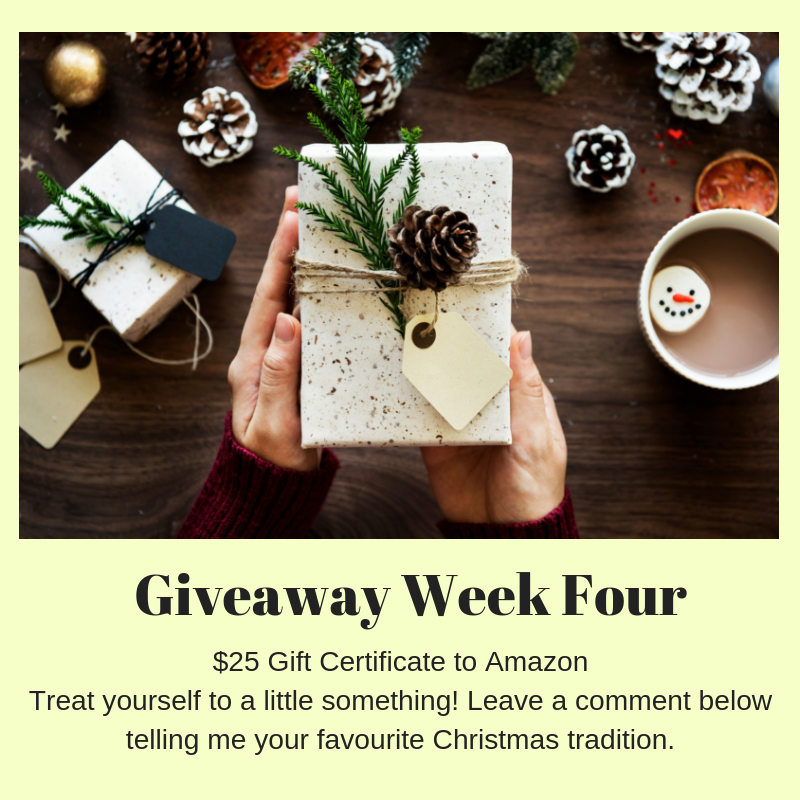 We are heading into the home stretch and I hope everyone is ready, or almost ready, for the holidays. I hope you spare a minute from your busy schedule to tell me about your favourite tradition? If you don't do the holidays, you can let me know about any tradition you hold dear. I want to hear about them, too!
I will draw a winner on December 31st! 
Our Christmas Traditions:
Books! We all receive a book on Christmas Eve! I love picking out books for my kids, especially now that they are older, as in they are adults, and definitely have their own opinions about things. I love hearing whether they enjoyed the book I picked for them, or didn't enjoy it. 
Lights! I love hopping in the car and going on a light tour. We get into a pyjamas, sip hot chocolate and take a tour of the lights. 
Games! I try and find a new game every year. This year it was a trivia game for my husband and I to play together. Last year it was the pie in the face game. My daughter wants to play that one again!
Getting together with family and sharing a special meal. I do love turkey and all the trimmings. And, of course, the people. It's not all about the food. Really, it's not! Although, I do love mashed potatoes and gravy! 
Until next time…
Tell me a favourited tradition!