"Reading is the sole means by which we slip, involuntarily, often helplessly, into another's skin, another's voice, another's soul."  Joyce Carol Oates
May 1st to 7th is Mental Health Week here in Canada, not sure that holds for the rest of the world but it doesn't really matter. Mental health is a subject for all 52 weeks of the year anywhere on the planet. I'm only just realizing how important a well rounded self-care regimen really is to one's continued mental wellbeing. And seeing as my mental health isn't always within the optimal range you could be fair to say I'm a slow learner. Good thing it's never too late to start taking care of yourself.
Three websites listing MANY resources for those who are suffering or who know someone that is:
I wish I could list links for the planet, but hopefully the links above give you an idea of what information and resources you can search out in your own country or region.
But most importantly: Ask for help or seek advice from a professional – give your mental health the attention it needs and deserves.
I can say from personal experience, you won't regret it. Cognitive Behavioural Therapy gave me important tools to manage my symptoms of depression and anxiety. But in reality it's of benefit to everyone as we all have to deal with life's challenges, stresses, and demands. Learn how to manage negative thinking or inaccurate thoughts. Learn the difference between positive thinking and realistic thinking. Make your mental health a priority!
We all need and deserve breaks. But we can't all jump on a plane or boat and spend a month in Bora Bora. There are numerous ways to relieve stress that won't put you in the poor house.
One of my favourite ways to relieve stress? Reading. Of course, reading has many benefits, but it's also a way to reset and recharge. Six minutes of reading can reduce your stress levels by 68%. In the last few months I've taken to reading print books again, after having all but given them up. It was a craving really, a desire to hold a print book in my hands. There's a term for this – slow reading. I guess it's no surprise that I'm back to reading print (I haven't given up ebooks!) as I've embraced a more mindful life style. Science has proven slow reading reduces stress, increases your ability to concentrate, and improves your sleep.
I've just started a wonderful (so far) book: The Woman in Cabin 10 by Ruth Ware! Good thing because this month promises to be a busy one.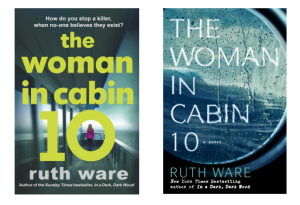 When travel journalist Lo Blacklock is invited on a boutique luxury cruise around the Norwegian fjords, it seems like a dream career opportunity.
But the trip takes a nightmarish turn when she wakes in the middle of the night to hear a body being thrown overboard – only to discover that no-one has been reported missing from the boat.
How do you stop a killer, when no-one believes they exist?
Funny how reading about murder allows me to relax! What do you do to relieve stress? And please, offer book recommendations! I'm always in need of a great book to read.