We all need to fill that creative well so I guess it only makes sense that being on holiday inspires creativity. We absorb inspiration in through sight, sound, taste, and touch. We make memories. Have good times. If we're lucky, the best of times. And sometimes the rough ones when things don't turn out as planned make the most memorable holidays.
Back in 2010 we camped at Writing-On-Stone Provincial Park in Alberta, Canada. Hauling our trailer around has been one of our favourite ways to holiday. And I would call camping at Writing-On-Stone one of our best times. The Milk River runs through the campground. I guess, for us, that was unique because we're used to camping by lakes. The Milk River was given its name by Lewis of the Lewis and Clark Expedition who described it like this:
"the water of this river possesses a peculiar whiteness, being about the colour of a cup of tea with the admixture of a tablespoonfull of milk. from the colour of its water we called it Milk river."
Milk River is a slow moving river that you can raft lazyly along. There's a beach and the mixture of clay and sand makes for awesome sandcastle building. There are sandstone cliffs called hoodoos to climb all over. It's peaceful and quiet with a first class interpretive center/museum that gives a wonderful look at the history of the area. The perfect holiday.
It's a beautiful spot, where people have been camping there for 3,000 years. For centuries native people camped along the Milk River, where they found shelter, water, and an abundance of food. They also found inspiration here. They believed this wide, lush valley with its hoodoos was charged with supernatural powers and was home to powerful spirits with the ability to help the people who journeyed to this scared place to pray.
They were so inspired that they documented the importance of this place. Writing-On-Stone park is home to petroglyphs (rock carvings) and pictographs (rock paintings) that tell explain their history, beliefs and way of life on the sandstone cliffs.
If ever there was a place to inspire a story…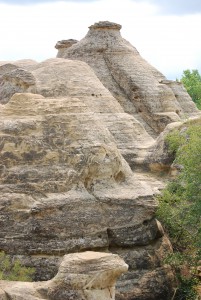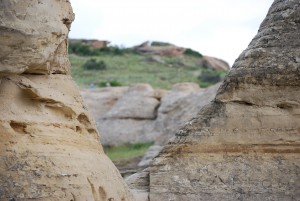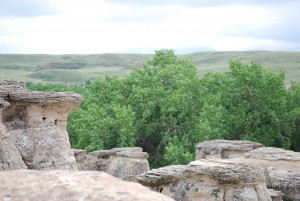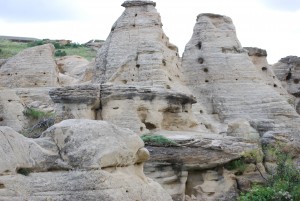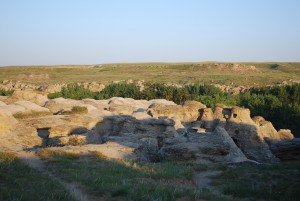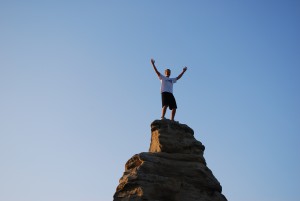 Where have you found inspiration? What are some of your favourite holiday locations?