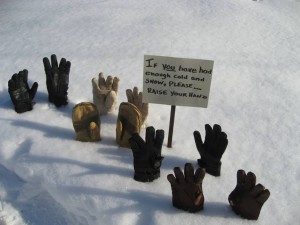 One day until the end of November and it's snowing. Again. NaNoWriMo is over. Mustaches and beards disappear. Hopefully. And all is well with the world. Except here comes Christmas. I used to be an uber organized person. Now, I'm not. I don't know what happened. I have no excuse. The good news is I remember most things.
November did see me taking part in a writing challenge, just not the official NaNoWriMo. At this point slinging out 50,000 words that require major rewriting at the end of it doesn't work for me. I tried it once. I 'won'. I ditched 95% of those words but have kept the same characters and the same town. That's it. I'm much happier with the story this time around. My goal for November was 500 words a day. It was an informal challenge supported by my writing group. We weighed in everyday on our private Facebook page and inspired each other. I didn't keep super strict track but I'm pretty sure it's all evened out and I'm on pace to slightly exceed that goal.
Obsession (Kate and Seth's story) is currently sitting at 30,745 words. 13,693 of those words written prior to November. Here's a sneak peak at the first paragraph.
Kate Logan figured hiking the long road back to self-respect sucked at the best of times. These weren't the best of times. The splintered wood of her boutique's back door jamb was rough and sharp under her fingers. With her bank account sitting at next to zero, repairing the break-in damage was an expense she couldn't afford. She had insurance, but collecting took time.
I'm also working on a manuscript called Off The Grid. Today I signed up to pitch it to  Harlequin's Dana Hamilton on January 4th as part of their Speed Dating with Editorial Assistant Dana Hamilton opportunity. We'll see what happens.
And this morning I was busy jotting down an idea for the first scene of the third book in a trilogy that doesn't have a book one or two. Just plenty of ideas about three adopted brothers and three women who understand about sacrifice.
On December 5th I'm giving a reading along with Mary Balogh and Annette Bower called Some Enchanted Evening…A Romance Reading.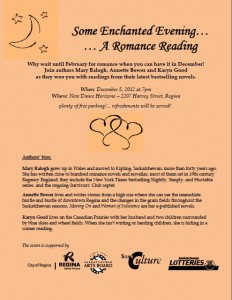 If you happen to be in the Regina area, join us at New Dance Horizons at 7:00 pm!
Starting December 1st I'm offering a Goodreads Giveaway for two copies of my romantic suspense, Backlash. It's open until the 15th of January.