Smart, sexy suspense
Tis the season for Halloween Blog Hops and a chance to win prizes and hook up with some great authors. Taking place from October 27th to the 31st. There will be a grand prize as well as prizes at the different stops!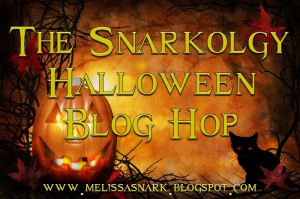 In other news the sun is shining and there is still an amazing amount of warmth left in the air. It's the day after Canadian Thanksgiving and I'm stuffed to the brim. It's all good.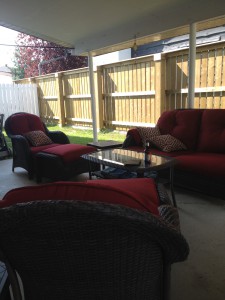 Time for cuddling up in blankets and making soup – one of my favorite things to do. Probably because you can fudge the recipe and it usually turns out. I have a butternut squash sitting in my pantry ready to be turned into a delicious soup. Creamy, Curry Butternutt Soup is one of our favorites!
Meanwhile I've received the first round of edits for my second Aspen Lake book, Exposed. Hard at work!
Latest News
Off The Grid releases November 7th.  In it Sophie Monroe, an inner city doctor and activist, and Caleb Quinn, a high-priced Family Law lawyer, join forces to save a victimized, pregnant teenager. Available for pre-order at Amazon.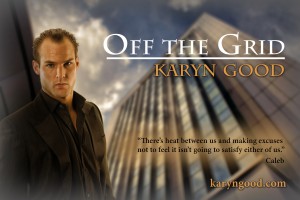 Excerpt:
A glimpse at Off The Grid's hero, Family Law Attorney, Caleb Quinn.
Caleb Quinn was smart. His new letterhead, business cards, and prime parking spot proof of how hard he worked. He was ranked one of Canada's top lawyers under forty. He'd made partner at the unheard of age of thirty-two. He was charming. Ask anyone. Women enjoyed his company. He was discreet. Generous. In bed and out of it.
He was attracted to Dr. Sophie Monroe, wanted to get to know her better. So what? Sexual attraction wasn't a crime. It was the second decade of the twenty- first century, people hooked up. He picked up a scarf, tossed it back, tuned out the most annoying Christmas song ever recorded. An over-crowded department store at closing on Christmas Eve? How much lower could he sink? Like the gift of a scarf was going to improve her opinion of him. He'd probably have more luck if he showed up with a package of tongue depressors.
*If you're interested in reviewing Off The Grid let me know and I'll hook you up! karyngoodauthor at gmail dot com
Old News
A friend has been hard at work creating new postcards for Backlash! Since we're talking heroes…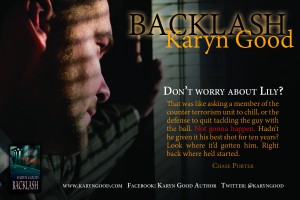 Thank you Elizabeth Lang, who also happens to be an amazing author of Science Fiction thrillers and Science Fiction Romance! And fellow member of The Saskatchewan Romance Writers
Other News
I'm part of a incredibly talented writing group! I thought I'd leave with a look at their upcoming and current releases.
If Regency Romance is your thing: Mary Balogh's Only Enchanting, Survivor Club Book 4 releases October 28th!
This is Book 4 of the Survivors' Club series, after The Proposal, The Arrangement, and The Escape. Hugo's story has been told, as have Vincent's and Ben's. Now it is the turn of Flavian Arnott, Viscount Ponsonby. He is the Survivor who suffered a severe head injury as a cavalry officer during the Napoleonic Wars, with resulting memory loss, the inability to think or speak coherently, severe headaches, and sudden rages. He spent three years with the other members of the group at Penderris Hall in Cornwall, recovering and learning to cope with his remaining handicaps.
Flavian is handsome, witty, charming, and aloof. His heart was broken when his beloved fiancée broke off their engagement soon after he was brought home from the Peninsula and married his best friend. The double betrayal has left him cynical and apparently quite immune to the lures of romantic love.
Agnes Keeping, a young widow, lives in a small village with her elder sister. She is a water colorist and loves to wander about the countryside painting wild flowers. She had a relationship with her husband of very mild affection and believes herself to be too sensible and prosaic ever to feel the pangs of a romantic passion, though she recognizes that such love does exist. Her friend Sophia, Viscountess Darleigh, is in a deep love relationship with her husband, the blind Vincent, one of the other Survivors.
Women's Fiction with Romantic Elements: Annette Bower's Woman of Substance is available now!
Robbie Smith tries walking a mile in another woman's shoes to validate her master's degree research. Even though her professor doesn't approve, Robbie disguises herself and moves in the world as a large woman, because the women in her research group declare, "You will never know what it's like to be fat."
All Jake Proctor wants to do is to spend as much time as he can with his dying grandfather Frank, the only father he's ever known.
While in and out of disguise, Robbie sees Frank and Jake. Robbie is drawn to the tall, dark, kind man in her neighborhood, but she can't divulge the truth about her about her oversized self and jeopardize all the hard work she's put into her research. She has to see her thesis through to the bitter end. Even if it means deceiving the man she's grown to care about.
Jana Richards' One More Second Chance is coming soon from The Wild Rose Press and part of the Lobster Cove series.
Dr. Alex Campbell has an agenda —finish his contract to provide medical services in Maine, pay off his medical school debt, and head back to his real life in San Diego. But when he meets Julia Stewart, all his carefully laid plans are put in jeopardy.
Julia Stewart, Lobster Cove's high school principal, swears she'll never let another man drag her away from the home she loves. Her aging parents need her, and the Cove is where she wants to raise her daughter. When her mother's illness brings her and the big city doctor closer together, panic sets in. Her marriage taught her that men don't stay. Can she put aside the heartaches of the past and trust Alex enough to accept the love he's offering? Or will her fear of abandonment mean she'll send him away forever?
More from the works of The Saskatchewan Romance Writers coming next month!
See you later in the month for some blog hop goodness and chances to win!